Medical legacy in Far North Queensland
By JOL Admin | 18 January 2017
Guest blogger - Cairns Historical Society.
Charles Campbell Baxter-Tyrie, born in Rattray, Perthshire, Scotland in 1871 graduated at Edinburgh University in 1892. In his early career he wrote extensively on a variety of topics for medical publications including the Lancet. In 1904 he migrated to Queensland with his family aged 33 years. Registering with the Medical Board of Queensland, he was appointed MB Master Surgeon of the Colmslie Hospital which was hurriedly built to deal with the outbreak of bubonic plague in Brisbane. Read more about the black death in Queensland.
Officials and health workers inspect a mound of dead rats, 1900 – 1902. Image 108588, John Oxley Library, State Library of Queensland.
Officials and health workers inspect a mound of dead rats, 1900 – 1902. Image 108588, John Oxley Library, State Library of Queensland.
In 1905, Baxter-Tyrie was sent to Maryborough to deal with the plague outbreak in the port city. He was required to monitor patient care, inspect premises and control any sources of original infection. His comprehensive Report of an Outbreak of Plague in Queensland during the first six months of 1904 was published in The Journal of Hygiene, Vol. 5, No. 3 (Jul., 1905), pp. 311-332.'
In 1907, he was appointed to the position of Health and Medical Officer for Cairns. Along with a private medical practice, his interest in tropical diseases had a lasting impact on the health and well-being of the people living in the north. In 1909 he was appointed Quarantine Officer and in 1910, an Examining Officer under the Federal Invalid and Pensions Act. In May 1910, Dr Tyrie travelled to Oaks Rush (Kidston) to investigate an outbreak of typhoid. Oaks Rush was the site of a new mineral field with many recent arrivals coming from the New Guinea goldfields. It was very remote and a tent town. Even today it is a 400 km and 6 hour journey to Cairns on bitumen and dirt roads. His investigations showed it was a particularly virulent form of 'black jack' malaria and he ordered the township site be moved and stringent hygiene procedures be put in place. Fourteen people died in the outbreak. Illness at the Oaks summarized the situation (Brisbane Courier, 10 May, 1910). Read more reports in the Brisbane Telegraph May 6, 1910 and Cairns Post, June 22, 1910.
He regularly reported to Council, demonstrating his concerns on malarial prevention, drainage and sanitation, mosquito breeding sites, rats, dengue fever, leprosy, contaminated milk and the use of opium in the community. His letters to editors of various newspapers covered topics ranging from tar trees on the Cairns Esplanade to tropical diseases. He used the newspapers of the day to debate contentious topics and engaged in robust communication with Dr Brienl who was the Director of the Australian Institute of Tropical Medicine in Townsville. Read one such letter published in The Northern Herald, 5 December, 1913.
Charles Baxter Tyrie on the left c1910. Photo by Cairns Historical Society
Charles Baxter Tyrie on the left c1910. Photo by Cairns Historical Society
Dr Tyrie was active in the Cairns community as well as carrying out his medical duties. He was a founding member of the Masonic Lodge in 1907 and by March 1908, elected the first president and commodore of the Cairns Aquatic Club. An active sailor, he took part in competitions and judged club events on social occasions. He took part in local cricket matches and officiated regularly. The local athletics club and newly formed tennis club also benefited from his participation as an official and a judge. He was associated with the Rifle Club, Oddfellows, Swimming Club, Caledonian Society, Cairns-Mulgrave Jockey Club, Cairns Citizens Band and the Kuranda Trout Stocking Association. He was a founding member of the Cairns Chamber of Commerce and regularly conducted First Aid training lectures to the local Ambulance groups (of which he was president) and shared his knowledge on topics such as how to deal with common sporting injuries.
He appeared regularly on the roster to hear cases in the Police Court and was frequently called upon as an expert witness. As Government Medical Officer he was often required to journey to Palm Island, Chillagoe, Kuranda, Port Douglas and Yarrabah involving travel by boat, train and overland bush track.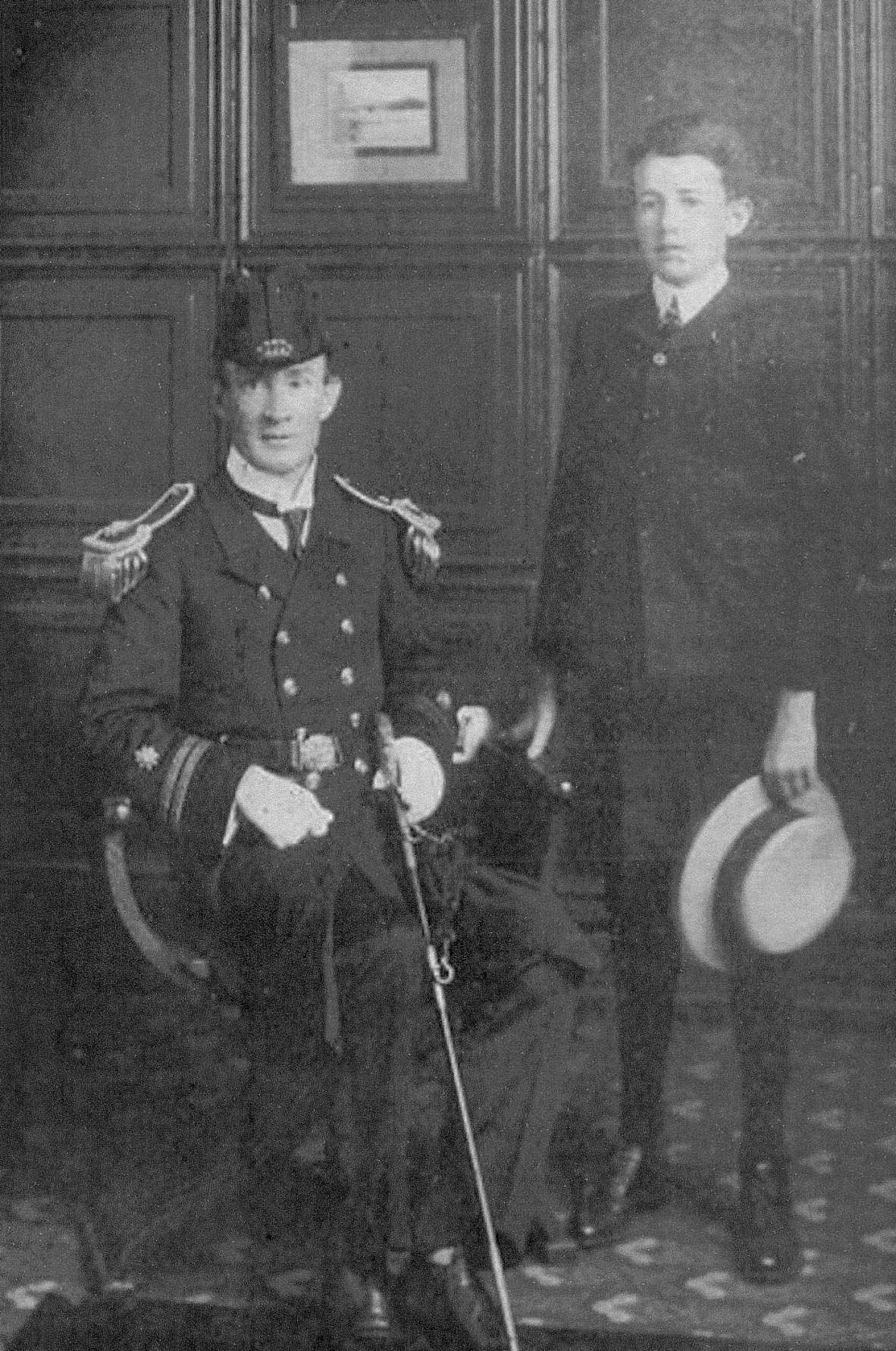 Surgeon Baxter Tyrie RAN & son Cadet Tyrie RN – The Northern Herald, 8 May 1914, p. 27  Cairns Historical Society P14377.
Surgeon Baxter Tyrie RAN & son Cadet Tyrie RN – The Northern Herald, 8 May 1914, p. 27 Cairns Historical Society P14377.
In 1912 he was appointed the Sub-district Naval Medical Officer to the Cairns Naval Forces and Medical Officer to the new Cairns Harbour Board in 1913. This same year he ran for Council and was successfully elected. The newspapers of the day carried reports of robust discussions involving Dr Tyrie and certain other Councillors. It was reported at one meeting Dr Tyrie invited the Mayor to 'come out in the back yard if you like.' He was an active Councillor and continued to emphasise disease prevention in the North.
By early 1915 he resigned all positions in Cairns, announcing he had been ordered to undertake war service. Donating his extensive library to the local constabulary, he published a notice in the newspaper requesting all debtors and creditors settle their accounts with his secretary. Appointed Naval Surgeon on board the Una, he left for Rabaul in New Guinea. Una was the former captured German boat Komet.
Dr Tyrie retired from war service at the end of 1915. He relocated and set up a new practice in Harden, adjacent to the Canberra region of the ACT and the Riverina region of S-W NSW. He died of pneumonia, pleurisy and emphysema in Cootamundra Hospital, 31 January 1917, aged 45.
His legacy to Cairns and the Far North was his ground-breaking work in malaria and infectious disease control. Several of the organisations he helped to instigate still exist today. He is remembered with the naming of Tyrie Close, a street in the suburb of Earlville, Cairns.
Pauline O'Keeffe -Cairns Historical Society
Further reading:
Cairns Historical Society Bulletin 104 November 1967 Komet; W T Johnston
Cairns Historical Society Bulletin 553 February 2008 Dr Charles Campbell Baxter Tyrie; Pauline O'Keeffe
Cairns Historical Bulletin 593, 594 September 2011; Where have all the brown trout gone? Parts 1 & 2; Dr Peter Ryle
Comments
Your email address will not be published.
We welcome relevant, respectful comments.