Matron Eveline MacDonnell: First World War service and beyond
By JOL Admin | 22 November 2016
Guest blogger: Pauline O'Keeffe, Cairns Historical Society
Eveline Florence MacDonnell was born in Boyle, County Roscommon, Ireland and migrated to Australia with her family. She was sister to A. J. P. and H. K. N. MacDonnell of the well-known Cairns firm of solicitors. Eveline was nursing in Brisbane in 1908 before accepting the role of Matron at St Margaret's Private Hospital in Lake Street, Cairns c. 1910, and a position as Matron at Maryborough Hospital before being selected from ten applicants and appointed Matron of Cairns Hospital in May 1912.
Enlisting for war service, Miss MacDonnell was presented with a bag of sovereigns by the Hospital Guild and other dignitaries, and farewelled on 24 April, 1915. She was aged 39, naming her brother A. J. P. MacDonnell as next of kin. Embarking in Sydney in early May with a team of 26 sisters she was soon involved in the horrors of the Dardanelles campaign at the 3rd Australian General Hospital in Lemnos.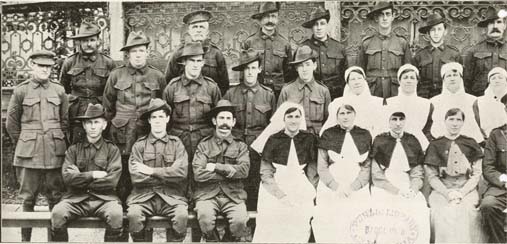 Matron Eveline MacDonnell is seated on the right, front row. The Queenslander, 5 October 1918, p.24.
Initially there were no facilities - no tents, no accommodation, very little water, limited supplies and very adverse weather conditions as hundreds of badly wounded men arrived in convoys from Gallipoli. After more than a year of nursing in Abbassia, Alexandria and Lemnos, Matron MacDonnell went on leave to England prior to taking up duties at 1st Casualty Clearing Station (1CCS) at Abbeville in France. Casualty clearing stations were the closest hospital facilities to the front line. After initial treatment at dressing stations, wounded soldiers were brought to these facilities, located alongside railway lines. The clearing stations consisted of hastily erected canvas wards and operating theatres. Being close to the action, and often adjacent to ammunition stores or observation posts, they were extremely vulnerable to enemy attack.
During her time overseas Cairns newspapers printed several letters she wrote to friends. In these she mentions local servicemen she had met as well as including general comments on the weather and day to day affairs. Source at http://nla.gov.au/nla.news-article147501557open_in_new
Published in the Northern Herald (Cairns, Qld) 1913 – 1939, 25 Feb 1916, p. 22.
In November 1917 after nearly three years in some of the most difficult of nursing situations, Matron MacDonnell returned to Australia following her discharge by direction of the authorities. Eveline was awarded all three Campaign medals for her service, although the 1914-15 Star was incorrectly engraved and had to be returned for correction.
Following her return she resigned her position at Cairns Hospital to live in Brisbane. In 1918 Miss MacDonnell accepted a position as Matron of the Rosemount Orthopedic Hospital, caring for returned servicemen. The following article mentions her attending the Rosemount Military Hospital's rowing regattaopen_in_new in Breakfast Creek, December 1918.
More information about the Rosemount Military Hospital was reported in The Brisbane Courier (Qld: 1864 – 1933) 20 Mar 1918, p, 6.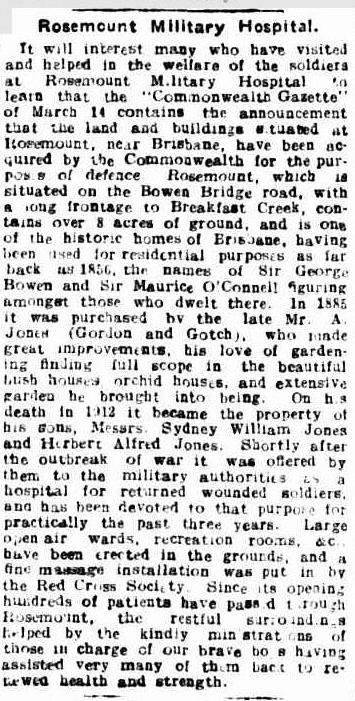 Rosemount Military Hospital in Brisbane provided a place for soldiers to recuperate from active war service.
Eveline held nursing positions in New South Wales and Queensland before retiring to the War Veterans Home at Caboolture. After a full time career caring for others, she died in Brisbane General Hospital on 15 October 1956. Access the full image and names of hospital staff and patientsopen_in_new of Rosemount Orthopaedic Hospital during Eveline's time as Matron in The Queenslander, 5 October 1918.
Pauline O'Keeffe, Cairns Historical Society
Comments
Your email address will not be published.
We welcome relevant, respectful comments.