Lest We Forget - Sgt. Roy D. Proctor MM
By Marg Powell, Specialist Library Technician, Metadata Services | 30 May 2014
The papers of Roy Douglas Proctor include photographs, letters, postcards and realia. Roy's nephew, Rev Ronald Gwyther, inherited the papers from their original recipient his aunt Ruby Proctor, and donated the collection to the State Library of Queensland in 2002 through the Queensland Heritage Retrieval Project.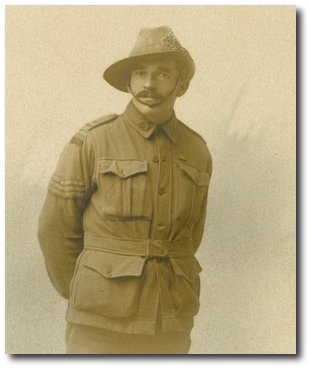 Roy Proctor, 24 enlisted in the A.I.F. and was assigned to the 8th Reinf. 15th Battalion in July 1915. He served in Gallipoli and was promoted to Corporal early in December 1915. He was evacuated sick to the Island of Lemnos, then transferred to hospital in Cairo for further treatment.
When he re-joined his unit, Gallipoli had been evacuated and they regrouped at Tel-el-Kebir, before embarking for service in France.
In October 1916 he promoted to Sergeant and awarded the Military Medal for conspicuous bravery in the field. It was just a few months later that he was killed in action near Fleurs. Initially buried in the Switch Trench Cemetery south of Fleurs, his body was later relocated to the Guards Cemetery, Les Boeufs, Somme, France.
His mother Amelia Proctor, had his Military Medal sewn into a bag which was cremated with her when she died in 1947. His sister Ruby took out his letters and postcards every Anzac Day, 1st February & Remembrance Day to re-read them, never to forget her dear brother.
For many years after his death, notices appeared in the newspapers commemorating his death. One of these however is yet to be dated:
Also in the collection is a silver-mounted bronze remembrance plaque issued to the next of kin of soldiers who died while serving in the first World War, and an enameled brooch issued by the Department of Defence, Australian Imperial Forces, inscribed: "To Women of Australia For Duty Done" (in original box). The plaque and brooch were given to Roy Proctor's mother Amelia Proctor on the death of her son. These items are currently on display in the Treasures Wall of the John Oxley Library.
Comments
Your email address will not be published.
We welcome relevant, respectful comments.