Launching Art of the Skins
By Administrator | 28 July 2016
A blog by Freja Carmichael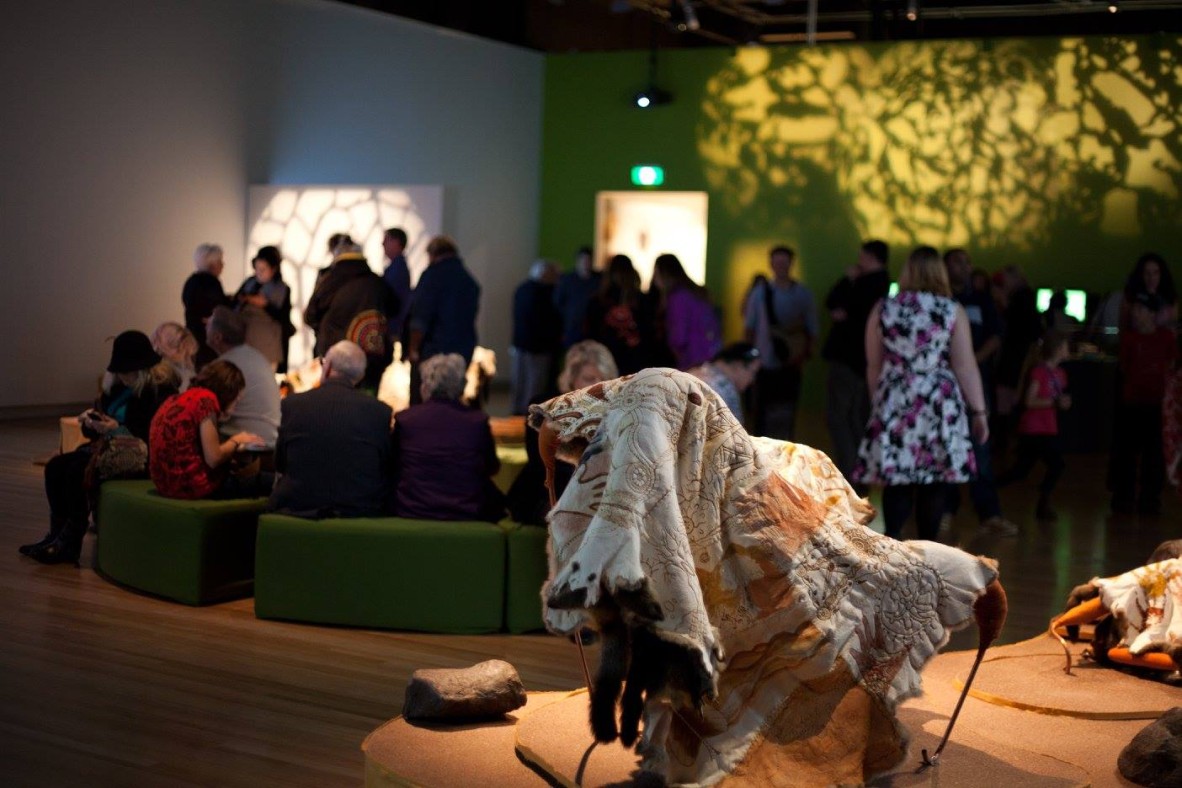 Exhibition launch, SLQ gallery. Photography by LaVonne Bobongie Wall.
Exhibition launch, SLQ gallery. Photography by LaVonne Bobongie Wall.
Although it was some time ago, we are still relishing in the energy from the special day of celebration for the opening of Art of the Skins. Following months of research and widespread collaborative community workshops throughout South East Queensland, Art of the Skins was launched on Saturday 25 June. The exhibition which encompasses both kuril dhagun and SLQ Gallery spaces showcases the cultural revival of historical possum skin traditions through contemporary artistic practices.
If you are a regular reader of the Indigenous Voices blog, you may be familiar with this expansive cultural revitalisation exhibition project. see: 'Interview with Uncle Nurdon' (18 Nov 2015) , 'Interview with Libby Connors' (5 Nov 2015) , and 'Possum skin cloak workshop in Kenilworth' (30 Sept 2015).
The unveiling commenced with a community gathering with workshop participants, family and friends in the kuril dhagun space. A scrumptious lunch prepared by Dale Chapman from the Dilly bag was enjoyed together, as we viewed the kuril dhagun exhibition featuring works by Aboriginal artists and project initiators Carol McGregor and Glennys Briggs. The multidisciplinary display, inspired by the revitalisation of Aboriginal possum skin cloak making traditions includes artists' individual cloaks, installations and sculptural forms.
A tour was then lead by Carol, Glennys and myself to SLQ Gallery, where the histories of South East Queensland's possum skin cloaks and the story of the artists who have recently revived this practice is told. Since 2015, Carol and Glennys have facilitated contemporary cloak making workshops on the Sunshine Coast, Brisbane and Gold Coast. The culmination of these sessions is showcased in the display of 6 beautifully created possum skin cloaks, alongside workshop documentation and historical content.
There have been over 120 artists involved in this project, and it was such a special moment to view the cloaks together for the first time. The exhibition space quickly filled with warm emotions and a proud spirit, as artists gathered around their community collaborations, and viewers immersed themselves in the exhibition display.
The launch continued onto the Queensland Terrace for the official proceedings. kuril dhagun Manager, Amanda Hayman introduced our guest speakers following Aunty Maroochy Barambah's blessing. Sonia Cooper, State Librarian and CEO addressed Art of the Skin's important contribution to SLQ's Belonging theme and as co-curator (alongside Katina Davidson), I spoke about the curatorial process of the exhibition's development. The exhibition was formally opened by Carol McGregor and Glennys Briggs as they shared how the project was initiated and its strong importance to Aboriginal culture and community. The joyous day closed with mingling together, as we enjoyed afternoon tea and music by Getano Bann.
The exhibition will be running in kuril dhagun, level 1, and SLQ Gallery, level 2 until 20 November 2016. If you plan on viewing Art of the Skins, I recommend putting extra time aside to view the works, read artists stories and have the chance to sit quietly with the cloaks. This is an exhibition not to be missed!
Make sure you check out the upcoming events relating to Art of the Skins which include A Night by the Fire: resurgence program. This session brings together a number of panelists to discuss how cultural practices, like possum-skin cloak making, are undergoing an exciting cultural resurgence. Further details are available here.
Glennys Briggs, Amanda Hayman and Carol McGregor. Photography by LaVonne Bobongie Wall.
Comments
Your email address will not be published.
We welcome relevant, respectful comments.