Keith Payne, VC, OAM
By Kirsten Perris | 21 May 2020
Australia's highest military honour is the Victoria Cross (VC). It has been awarded through the British Imperial system (as the VC)and later through the Australian Honours system (as the VC for Australia) to people who, in the presence of the enemy, display the most conspicuous gallantry, or daring or pre-eminent act of valour or self-sacrifice. Only 100 people have earned this extraordinary medal since 1900.
During the Vietnam War in the battle of Ben Het, Warrant Officer (WO) Class II Keith Payne, performed acts of such bravery in the presence of the enemy that he received a VC from Queen Elizabeth II aboard the Royal Yacht Britannia, the last to receive this honour under the Imperial System. He was also awarded the Distinguished Service Cross and a Silver Star from the United States, and a Cross of Gallantry with Bronze Star from the Republic of Vietnam.
Portrait of Victoria Cross (VC) recipient, Warrant Officer 2 (WO2) Keith Payne, LES/69/0593/VN, Australian War Memorial.
Keith was born and raised in Ingham in North Queensland. After a brief stint as an apprentice cabinet-maker he joined the Army at 18 years of age. He served with various units in Japan and Korea in 1952-1953 and in Malaysia in 1963-1965 but it is his actions in Vietnam for which Keith Payne is most well-known.
Memorial plaque for the AATTV at Anzac Square Memorial Galleries in Brisbane. Image taken by State Library of Queensland staff.
From 24 February 1969, Keith served in the Australian Army Training Team Vietnam (AATTV). They were a specialist unit from the Australian Army whose role was to assist and train the South Vietnamese forces. On the 24 May 1969 he was on secondment to the US Special Forces in command of 212th Company of the 1st Mobile Strike Force Battalion. His good friend, US Special Forces Green Beret Sergeant (Sgt) Anastacio Montez commanded the 213th Company, and between them there was approximately 300 indigenous soldiers called Montagnards and a small number of Australian and US Special Forces personnel.
The 1st Mobile Strike Force Battalion was attacked by somewhere between 1200 and 3000 battle hardened North Vietnamese Army personnel, isolating the two leading companies, the 212th and 213th. WO Payne, Sgt Montez and their men were seriously outnumbered. They endured mortar and rocket supported attacks from three sides. Keith was able to temporarily hold off the enemy by alternating between firing his weapon and running from position to position, collecting the grenades and throwing them at the advancing enemy. During the chaos of the battle, many soldiers got cut off from their unit and wounded men fell behind. Keith organised his troops into a defensive position and then went outside the defensive perimeter for those left behind. He spent three hours crawling and sneaking though the enemy held jungle during which time he located 40 wounded and isolated men. Some he brought back himself and others he organised to be rescued, after which he led his men back through the enemy's territory to the safety of the US Special Forces Base.
These actions are all the more remarkable when you consider that Keith was wounded several times throughout the battle but persevered to ensure the safety of his men. Early in the events of that night, a rocket propelled grenade hit a tree and left a large splinter embedded in Keith's scalp. Throughout most of the fighting, he had blood streaming down his face but refrained from touching the top of his head because he thought if he didn't know what was going on up there he didn't need to worry about it. He was knocked off his feet at one stage by a mortar and was also wounded in his hand and arm. When a large piece of shrapnel lodged in the magazine housing of his rifle, rendering it unable to fire, he discarded it, picked up another's and continued with the fight. His actions that day were brave, selfless, and heroic.
Brisbane Lord Mayor Clem Jones presenting the Keys to the City of Brisbane to Keith Payne VC with his wife Florence. Image courtesy of the Brisbane City Council, Identifier: BCC-T54-024.
After his return home to Brisbane, Keith Payne was presented with his VC by the Queen and the Keys to the city of Brisbane by then Lord Mayor Clem Jones. A park in the Brisbane suburb of Stafford where he lived was named in his honour.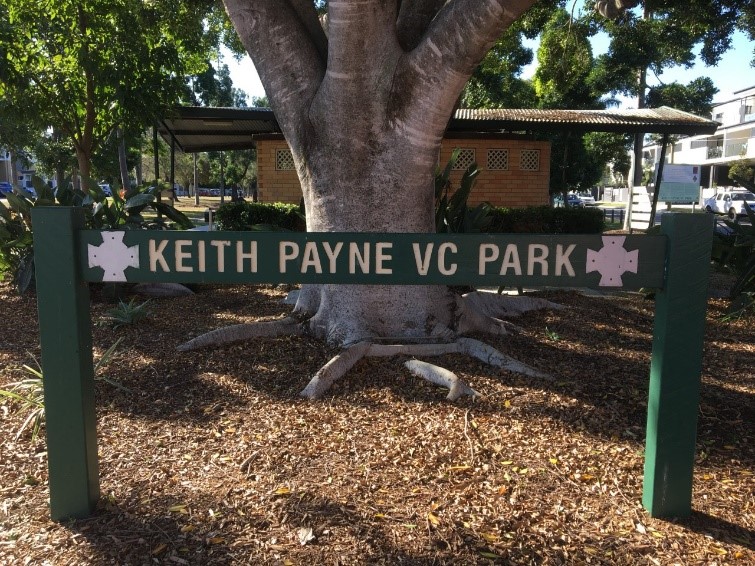 Keith Payne VC Park, Buddina and Lutana Streets, Stafford, Brisbane. Image taken by State Library of Queensland staff.
Keith retired from the Australian Army in 1975. As years passed, he found he struggled with the traumatic experiences of his wartime service. His firsthand knowledge of how your experiences can affect your life for many years after the event and how traumatising they can be has given him the insight needed to work tirelessly for veterans and in particular those suffering from PTSD. In 2006 Keith Payne received yet another accolade, the Medal of the Order of Australia (OAM) for his service to the veteran community. In 2011 he was then made a Member of the Order of Australia and is quite rightly considered a national treasure.
Pauline Gordon
Visitor Services Officer, Anzac Square Memorial Galleries, Visitor & Information Services
Further reading:
Comments
Your email address will not be published.
We welcome relevant, respectful comments.