John Oxley Library Open Day 2011
By JOL Admin | 9 June 2011
On Saturday 4th June, The State Library of Queensland held an Open Day in the John Oxley Library Reading Room. This is our second Open Day following a similar event held in 2009 to mark the John Oxley 75th celebrations. Open Days showcase some of the many treasures usually housed in behind the scenes repositories.
There were ten tables of amazing objects and items on display included original artworks; ephemera including original WWII petrol ration coupons; rare books and photograph albums; estate maps and original tourist posters; newspaper cuttings books; original items such as gold railway passes; Aboriginal related collections and artifacts; glass plate negatives and lanterns; rare sheet music and digital stories just to name a few! Some of my favourite objects from the day included Queen Victoria's stockings; Crimestoppers cards of wanted Queensland criminals; the diary of William A. Smith kept during his 1864 voyage to Australia on the clipper "Young Australia"; the first map of Australia and the Trackson Family photograph albums with photos of Queensland's first car!
A series of well received talks was held in the John Oxley Library Reading Room's Mittelheuser Lounge. The talks were presented by library staff and guest speakers Dr Kate Evans, Robert Riddel and Nancy Underhill. Topics included the Literature Map of Queensland and Music Map Launch, Art in Architecture curator's talk by Robert Riddel, Stripping and dripping jam – Stirring up JOL by Dr Kate Evans; Songs in our Heart curator's talk by Nancy Underhill and Laurell Garlick as well as talks on Business Leaders Hall of Fame and business records, War stories from the collection, Indigenous Languages and First Contact.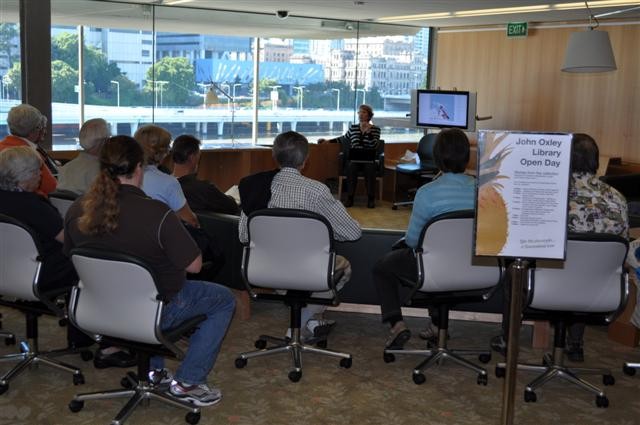 A lively and light hearted debate on "Is Queensland different" with Matt Condon, author and journalist, Professor Raymond Evans, Queensland Historian and Author and Dr Kate Evans, ABC Radio journalist also drew visitors to auditorium 2. There were also behind the scenes tours.
The Open Day was an invigorating and exciting occasion with hundreds of visitors making the most of this once a year opportunity to browse a large range of our unique and precious collections.
Karen Hind - John Oxley Library
Comments
Your email address will not be published.
We welcome relevant, respectful comments.