The history of the Belvedere
By Don Watson, historian and architect (2012 John Oxley Library Fellow) | 9 December 2013
Crawford & Mann perspective of proposed residence for J.W. Laurie, 1889. Image of courtesy of Malcolm Elmslie
Guest blogger: Don Watson - historian and architect (2012 John Oxley Library Fellow)
27 Edmondstone Street, South Brisbane
BANDARRA – 1901 CARLNER - 1917 DEVON – 1940 – and BELVEDERE – 13.11.2013
Belvedere, which was destroyed by fire on November 13, was an unoccupied rooming house at 27 Edmondstone Street, South Brisbane. Owned by Greek Orthodox Community of St George whose premises it abutted, the house was listed as having local heritage significance. It was subject of a court action by the owners to overturn rejection by the Brisbane City Council of an application for its demolition. Despite the suspicious nature of the fire, 'a Queensland Fire and Rescue Services spokeswoman said due to the intensity of the fire an investigation could not take place, and for safety reasons the building was demolished the day of the fire'.
The site of the house was part of land granted by the Queensland Government to the Brisbane Municipal Council to offset the considerable cost of the first permanent Victoria Bridge. For much of the history of the house, the site comprised two nearly equal allotments, back to back in Section 47 – Allotment 8 of 36 perches (approx. 225m²) with a frontage of 1 chain (approx. 20m) to Edmondstone St and overlooking Musgrave Park; and Allotment 17 behind, with an equal frontage to what was known originally as Stephens St, now Browning St. In 1936 Allotment 17 was subdivided and approx. 6 perches added to Allotment 8 making it almost 300m².
In March 1880, the original owner of the land, Ebenezer Hooker, auctioneer and real estate agent paid £125 for Allotment 8 and £105 for Allotment 17. Hooker sold both allotments in January 1882, to Mary Jull Collings Ham, widow of the engraver and lithographer, Thomas Ham. She mortgaged the allotments in April 1886, for £1,150 (or maybe double this), sufficient for the erection of a substantial dwelling, but apparently not spent on such. The sites were sold in August 1888 to John Worden Lawry, accountant to the Queensland Post and Telegraph Department. The architects for the house were Crawford & Mann who called tenders in October 1889 for erection and completion of a villa residence, Edmondstone Street, South Brisbane (Brisbane Courier, 14.10.1889, p.2). Intending to erect the house of brick, separate quotations were called for: drainage and brickwork; carpentery and finishing trades; as well as for the entire house. The tenders may have been high and new tenders were called for a villa residence (wood) (Brisbane Courier, 14.12.1889, p.5). The completed timber house was called Bandarra. An architects' perspective view of the proposed house is held by a descendent of J.W. Lawry.
Crawford & Mann was a partnership of Edward James Frederick Crawford (1864-1942) and Gother Victor Fyers Mann (1863-1948) who were in practice in Brisbane from 1888. Mann is well known with an entry by Richard Haese in the Australian Dictionary of Biography (ADB 10). There are entries for both architects and the firm in Queensland Architects of the 19th Century (1994) p.49, p.121; but more is now known about Crawford. He was born at Sandhurst, Victoria, the son of Sidney Malone Crawford and Blakely Robson. Sidney died soon after the birth, but the family who had been brewers in South Australia were well known and Edward's education was probably supported by his uncles. Nothing is known of his training but it may have been in Sydney where by 1885 he was working as an architect and where Mann trained with the architect Thomas Rowe. Crawford & Mann were late arrivals for the boom in building which occurred in Queensland in the 1880s, but were soon successful with a variety of commercial and private commissions. The firm promoted their work in the Building & Engineering Journal. When economic conditions declined in 1891, the partnership was dissolved on June 30th 1891. Mann returned to Sydney but Crawford remained in practice in Brisbane as conditions deteriorated further. In September 1891, he called tenders for what may have been alterations to Bandarra (Brisbane Courier, 5.9.1891, p.4), possibly for work deleted in the original contract. As for many Brisbane architects, Crawford's practice concluded in the recession which occurred from 1893, in his case, not helped by an action brought by the Municipal Council over an alleged infringement of the Council's provisions relating to first class construction in the city centre. By 1903, Crawford was living at St Kilda, Melbourne, working as a draftsman. By 1913, he was a civil servant, working as an inspector for the Board of Public Health, Melbourne, remaining with them possibly until at least 1937. He died unmarried at St Kilda, Melbourne.
When in June 1899, Lawry sought to sell Bandarra, it was described as having: "ten large rooms, with a magnificent entrance hall and solid carved staircase. Ceilings of the main rooms are the most handsome in Brisbane, being of wood, panelled with heavy mouldings. The Drawing-room is very highly finished, and contains two handsome and beautifully carved Mantelpieces. The Offices consist of two large bathrooms, pantry, storeroom, lavatory, large kitchen, servant's room ; also, Stables, coachhouse, and man's room, and many small conveniences seldom if ever met with in Brisbane" (Brisbane Courier, 24.6.1899, p.12).
Inside the Belvedere. 28 June 2012. Image courtesy of Peter Marquis-Kyle. CC-BY-NC
Inside the Belvedere. 28 June 2012. Image courtesy of Peter Marquis-Kyle. CC-BY-NC
Two photographs of Bandarra (an exterior and interior) are held by the National Library in an album: Chillagoe Railway and Mines Ltd., views, . The photographs were taken by the engineer/architect Thomas Clive Groom (1874-1953). Within the album, they occur close to two photographs of Mrs A.E. Allen, the wife of another architect/engineer Albert Edward Allen (1864-1929), the Queensland manager of Wildridge & Sinclair, refrigeration engineers, with whom Groom had been employed previously. Mrs Allen may have stayed in the house while her husband was overseeing the erection of meatworks in South America or the Far East.
The panelled and heavily moulded timber ceiling can be glimpsed in the interior photograph - it shows more clearly in recent photographs taken by the conservation architect Peter Marquis Kyle. A descendant of J.W. Lawry holds a photograph of Musgrave Park taken from the upper balcony.
Bandarra, c.1905 (later called Belvedere). Image courtesy of National Library of Australia
The suggested date of the National Library's photographs (c1905) may be incorrect as by then, the name of the house had changed to Carlner, after its purchase in September 1901 by Carl, jnr, Albert and Emma Klingner, the children of Carl Klingner snr, a merchant. As a focus for social activities, Carlner was regularly reported in the press. In 1904, Sam Klingner (another son of Carl Klingner) married Davina Jones, daughter of the Mayor of South Brisbane. Parties at Carlner, included one for the bride's party (Queensland Figaro, 11.8.1904, p.18) which was extensively reported: "The two large drawing rooms were charmingly decorated, snowdrops being largely used. The catering was in the hands of Eschenhagen, and included every imaginable delicacy, strawberries and cream, Charlotte Russe, oyster patties, ices, and lovely French confectionery".
Drawing room, Bandarra . National Library of Australia, 3311313
In 1907, the property was transferred to Emma and Charlotte Klingner. The Klingners were of German descent, and during World War 1, the Misses Klingner moved to Redcliffe and by 1917 Carlner had been renamed Devon. It was being used as a high quality rooming house for permanent residents and visitors, with large verandah and balcony rooms overlooking Musgrave Park. In May 1920, the Misses Klingner sold the house and auctioned the contents. It was purchased for the same purpose by Charles and Louisa Vaughan with Mrs Vaughan as proprietor of Devon by September 1920, although settlement of the sale did not occur until July 1921. A mortgage from the Queensland Bank in 1930 may have paid for changes to make the rooms into more self-contained flats. After Charles' death in 1934, the house reverted to the sole ownership of Louisa Vaughan. The rear portion of the land (Allotment 17 less 6 perches which were added to Allotment 8 ) was sold in 1936.
Devon Flats were sold in 1940 to Alexander Inglis jnr. When the name changed to Belvedere is not known but the house regularly changed hands: in 1949 to Benedetto Norbis; in 1953 as half shares to Edgar Roy McIlveen and Eliza McIlveen (who died in 1954); in 1959 to Arthur Gordon and Isabel Grace Marshall; in 1971 to David Allen and George Robert Townsend; in 1972 to Brisbane Building Centres, a company owned by the architect Edward James Archibald Weller; in 1978 to Allen Oaken; in 1980 to Paul Gaugain McPhee; in 1981 to Ian and Ruth Gough; and finally in 1982 to the Greek Orthodox Community of St George. How and when the verandahs were enclosed and the house renamed Belvedere is not known. A quick search of the Indexes to the Brisbane City Council's Building Registers (now online, but slightly incomplete for the period 1926-1943) to identify any renovations to facilitate the use of Bandarra as flats was unsuccessful.
Crawford & Mann is an architectural practice which is not a well-known. Despite its short duration, it was successful at a time when opportunities were declining. If Bandarra was indicative of their ability, they were capable designers. The destruction of this major commission is to be greatly regretted as a loss of cultural heritage and as impairing the residential character of Edmondstone Street, overlooking Musgrave Park.
The following photographs of the Belvedere were taken by conservation architect Peter Marquis-Kyle in June 2012. These images are licensed by CC-BY-NC.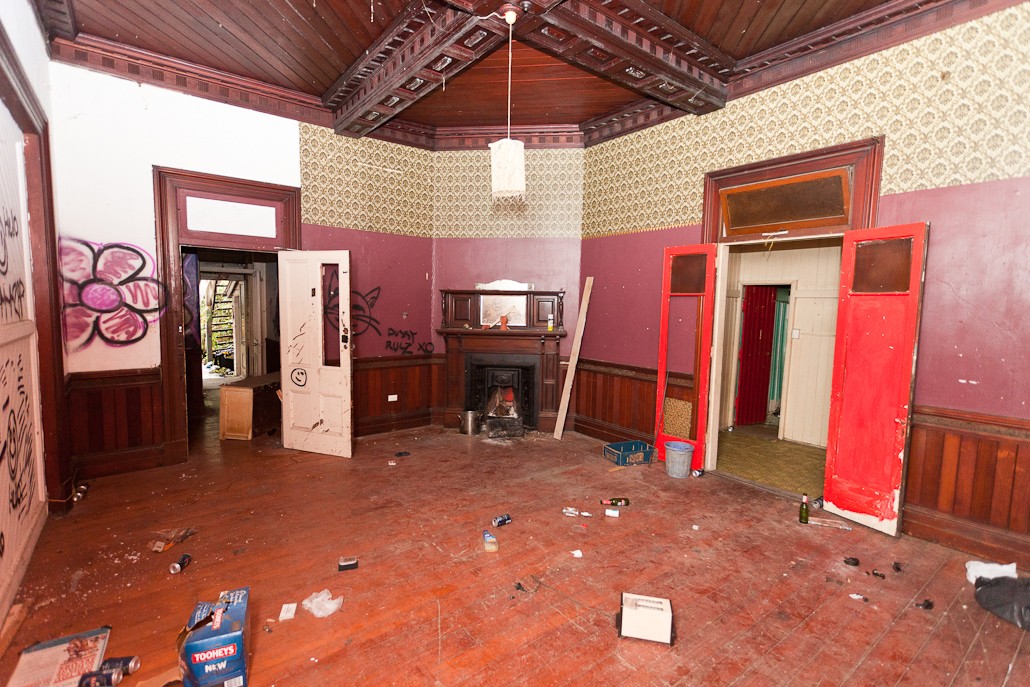 Inside the Belvedere. 28 June 2012. Image courtesy of Peter Marquis-Kyle. CC-BY-NC
Inside the Belvedere. 28 June 2012. Image courtesy of Peter Marquis-Kyle. CC-BY-NC
Inside the Belvedere. 28 June 2012. Image courtesy of Peter Marquis-Kyle. CC-BY-NC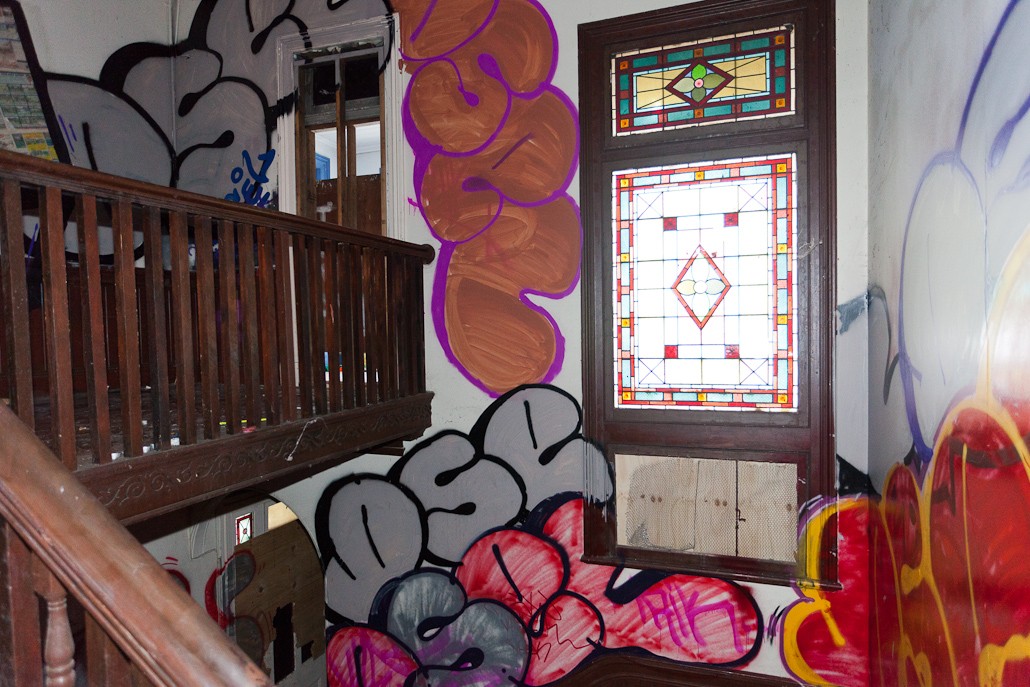 Inside the Belvedere. 28 June 2012. Image courtesy of Peter Marquis-Kyle. CC-BY-NC
Don Watson, historian and architect (2012 John Oxley Library Fellow) with information from Peter Marquis-Kyle, Val Dennis, Malcolm Elmslie and Stephanie Ryan
Comments
Your email address will not be published.
We welcome relevant, respectful comments.