Harold McCALLUM #1084
By Marg Powel & Des Crump | 9 January 2018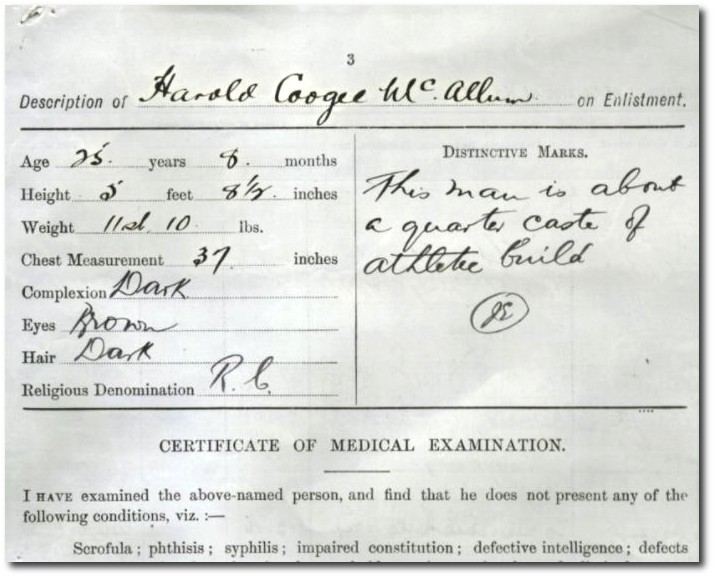 Extract from service record, Harold McCallum (National Archives of Australia)
Indigenous Australian, Harold McCallum, 5th & 2nd Light Horse Regiments
Harold Coogee McCallum (1890-1981) was born in Gayndah, Queensland to Bruce Daniel McCallum (1872-1945) a drover and mail contractor and Emily Coochy (1870-1950). He had been employed as a stockman when he volunteered to serve with the first AIF in February 1915.
From the recruitment station in Emerald he travelled to the Light Horse camp at Enoggera Army barracks just outside Brisbane, where he was allotted to the 5th Light Horse Regiment and appointed as shoeing-smith for his unit.
McCallum sailed on board the troopship 'Shropshire' in August 1915, with the 7th Reinforcements for the 5th Light Horse, bound for Egypt, arriving 5 weeks later. McCallum went missing from camp at Moascar in May 1916 and was found to have stowed away on board the 'Corsican' which had left Alexandria bound for England.
The Officer in Charge of Troops handed him over to the ships' Captain who put him to work stoking the ships boilers with coal for the remainder of the voyage. Once in England he was attached to the 13th Light Horse Regiment at Candahar Barracks, Perham Downs, where he spent the remainder of 1916 acting as their farrier.
McCallum was returned to Egypt in March 1917 where he was transferred to the 2nd Light Horse Regiment; it was with this unit that he served until the end of the war. In April 1919 now Corporal, he was given permission to travel to England to take part in the AIF's employment and education program. McCallum was granted leave to attend two months employment with G. Williams & Sons, Sloane Square, London. He was expected to return to Australia in September 1919 but was granted extended leave - subject to recall - and finally returned via HMAT 'Friedrichsruh' arriving in Sydney in March 1920.
Harold McCallum returned to work in north Queensland, and married Josephine Hope in 1923. Two of Harold's half-brothers also enlisted - Edmond Couchy/Couchy and Walter Couchy/Couchy.
Read more ...
The information in this blog post has been researched by State Library staff and volunteers, it is based on available information at this time. If you have more information that you would like to share or further research uncovers new findings, this post will be updated.
Comments
Your email address will not be published.
We welcome relevant, respectful comments.