George GRAHAM #6077
By Marg Powel & Des Crump | 26 October 2017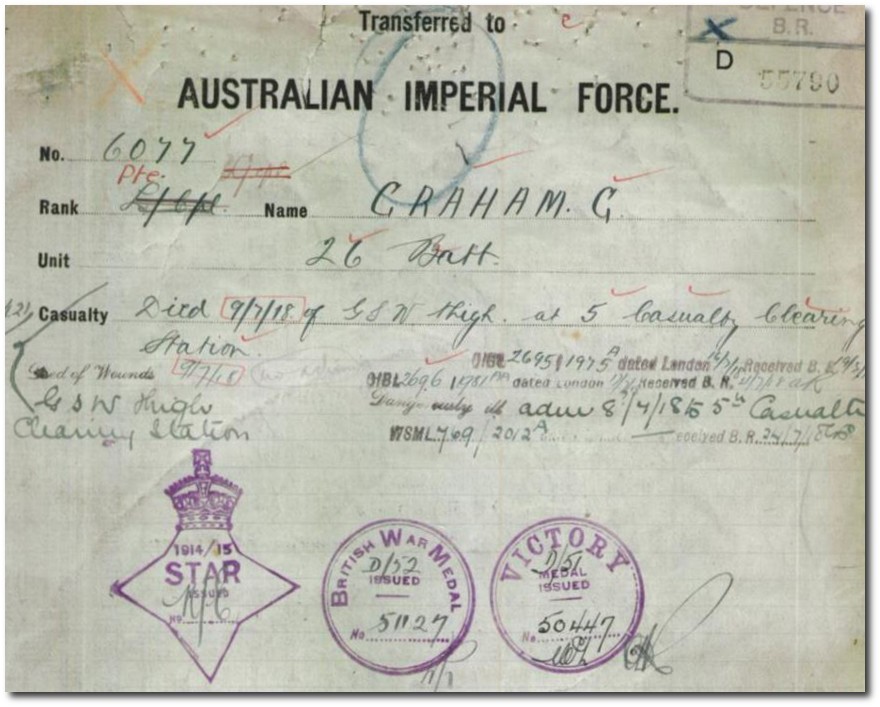 Indigenous Australian, George GRAHAM, 26th Infantry Battalion
George GRAHAM an oysterman from Nerang Creek, volunteered at age 40 to serve with the first AIF in May 1916, mis-stating that he was 28 years old. Born to Andrew Graham and Jenny McGussy a Yugambeh woman, in Logan in 1876 he worked the oyster beds off the coast of southern Queensland. Graham had married Emily Scott in 1901, and at the time of enlistment they had one child, Andrew George Graham.
After training at Enoggera, he embarked on board the troopship Marathon with the 17th Reinforcements for the 26th Infantry Battalion, in October 1916, arriving in England early in January 1917. They spent the next three months acclimatising and coming back to strength before embarking for overseas and active service.
Graham arrived in France in April 1917 and was selected to attend Bomb School, in July of that year. Promoted to Lance Corporal he served with the 26th Battalion in Belgium in battles at Menin Road and Brooseinde Ridge. After leave in England he returned to his unit, reverting to Private at his own request. In July 1918 the 26th Battalion undertook operations around Monument Wood, near Villers-Brettoneux. On 7th July Graham was seriously wounded by a high explosive shell. He was evacuated to the 6th Australian Field Ambulance who transferred him to the 5th Casualty Clearing Station for evacuation, it was here that he died.
George Graham is buried at Crouy British Cemetery, 10 miles north of Amiens. His wife Emily supplied a brief inscription for her husband's headstone which simply reads "For Australia".
Read more ...
The information in this blog post has been researched by State Library staff and volunteers, it is based on available information at this time. If you have more information that you would like to share or further research uncovers new findings, this post will be updated.
Comments
Your email address will not be published.
We welcome relevant, respectful comments.