Five memorable sea voyage diaries
By JOL Admin | 3 September 2015
State Library of Queensland holds numerous personal diaries in its collection. Some of these diaries record the experiences of migrants during the long voyage to Queensland and can include such details as weather conditions, the entertainment aboard ship and the petty squabbles between passengers. The 5 shipboard diaries below have all been digitised and can be discovered through our One Search catalogue.
5. Thomas Beynon Diary 1885-1886
Thomas Beynon Diary 1885-1886. John Oxley Library, State Library of Queensland
Thomas Beynon was born 18 May 1864 at Graig y Bedw, in the Parish of Llangynwyd, County of Glamorganshire, Wales. He was the second son of parents Thomas and Sarah Beynon, nee Williams. His mother died in 1874 of tuberculosis; his father remarried in 1881, to Mary. This second marriage produced a daughter, Margaret.
Prior to immigrating to Australia, Thomas was working as a coalminer, living in Glyncorrwg, Glamorganshire. He decided to immigrate to seek a better life, selecting the goldmines of Australia as his future. He left his family, and his sweetheart Jennet Popham, heading for Gravesend to board the Duke of Buckingham. He left with the hope that Jennet would join him in Australia once he was settled.
Thomas arrived in Maryborough in January 1886, from where he made his way to Gympie. It was while employed at the Crown and Phoenix Mine that Thomas Beynon died after sustaining severe head injuries in a mining accident; while ascending the mine shaft a cage guide sprung out and hit him in the face. He died in Gympie hospital on 12 April 1886. He was buried the following day at the King Street and Tozer Park Road Cemetery.
The diary describes Beynon's journey from Glyncorrwg to Gravesend, and then preparations to board the ship "Duke of Buckingham". He describes life on board ship, including the segregation of single men, single women, and the married couples. He describes the weather and sea conditions, ports of call, and the distance travelled each day. He also records some information about meals and entertainment. In addition to his diary entries, Beynon also recorded the dates and correspondents of letters sent and received, and also kept copies (or drafts) of some of the letters he wrote to his family and Jennet Popham. Throughout the diary and letters, Beynon makes clear his intention to remain in Australia for the opportunities it will give him, and encourages Jennet to join him. The diary also records several names and addresses.
The diary is written in an old coal mining account book, given to Thomas Beynon by Thomas Hughes of Glyncorrwg. The book contains some mine account information before the diary starts in earnest. Thomas Beynon's diary has been digitised and can be viewed via SLQ's One Search catalogue.
North Glanmire Mine near Gympie ca. 1880. John Oxley Library, State Library of Queensland. Neg 22388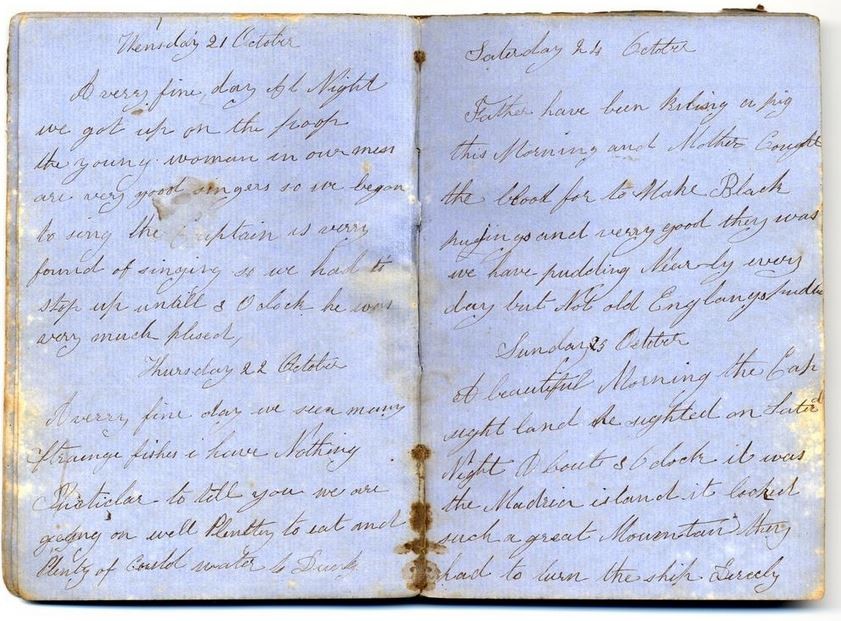 Maria Steley was born to Leah and Abel Steley on 29 December 1848 in Monmouthshire in the south of Wales . The Steley family emigrated to Queensland when Maria was fifteen, leaving Liverpool 6 October 1863, on board the "Ariadne," arriving Brisbane January 1864. The family included Maria's mother and father, her four younger brothers and her younger sister Mary Leah. The Steley family were the only assisted emigrants from Wales on board ship. The ship and those aboard were quarantined until February 1864 due to measles.
After arriving in Brisbane, the Steley family lived first in Rockhampton with Maria's older sister Maltilda, who was already living in Australia with her husband and children, and then Maryborough, where Maria's father Abel Steley was involved with the Burrum Coal Mine. Maria Steley died on 14 November 1869 at the age of 20. She was killed in a horse riding accident as she was riding home after a visit to Agnesvale Homestead, west of Maryborough. She was buried at Agnesvale Station the following day.
Diary kept by Maria Steley during her voyage from England to Brisbane on board the "Ariadne", and subsequent detainment in a quarantine camp on North Stradbroke Island due to an outbreak of measles on board ship. The journal is addressed to her friend Elenor and Maria often passes on useful information about what clothing and food Elenor should bring with her when she comes to Australia. The weather is described on a daily basis, as well as activities on board ship, and the food eaten. There is also included toward the end of the diary a poem/song titled "The Ariadne" composed by the steward Mr R Leytham.
Maria Steley's diary has been digitised and can be viewed via SLQ's One Search catalogue.
Maria's sister, Mary Leah Steley. John Oxley Library. State Library of Queensland. Neg 163065
William A Smith Diary 1864. John Oxley Library, State Library of Quieensland
William Smith was about 21 years old when he travelled to Brisbane aboard the "Young Australia" in 1864. Smith and his companion Richard Harding Watt were obviously young, well-educated, and quite religious friends from Manchester looking forward to a new life in Queensland. The two berthed together, after getting rid of a troublesome companion, and did most things together especially producing the middle cabin journal "Etches and Sketches" for circulation in rivalry with the salooners' "Illustrated Times." The text of both journals, minus illustrations due to cost, was printed in Brisbane by William Fairfax in 1864 as "Sketches at Sea" and "Young Australia Times." Smith says in his diary that he wrote almost all the text, although he made it look like a large staff was involved.
After arriving in Brisbane, Smith and his travelling companion from Manchester, Richard Harding Watt, who had provided the sketches for "Etches and Sketches," lodged together at a boarding-house in Spring Hill before going their separate ways. It seems Smith worked as a professional photographer for The American Glace Photographic Co. in Charters Towers, Gympie, and Maryborough. Prior to this he had a photographic studio in Ipswich with Henry Kerr, a fellow immigrant on the "Young Australia." Richard Watt's sketchbooks contain a sketch of this studio completed in 1864.
The diary, written in a confident, expressive style, describes the weather, conditions on board ship, and the types of activities that passengers were engaged in during the journey. These activities included reading, gambling, cards, drafts, and chess. Smith writes critically about the provisions served throughout the trip, which consist, in contravention of printed government regulations, mainly of salted pork, preserved potatoes, and hard sea biscuits. He also notes the snobbish incivility of the captain and officers towards all but the first class passengers, and the incompetence of the ship's doctor.
Smith is obviously spending most of his time writing for the shipboard paper that he and Richard Watt establish in July at the time the ship rounds the Cape of Good Hope. He does, however, take the time to make regular entries in his diary which describe significant events such as a near fatal storm in the latter part of the journey, and his sighting of the Aurora Australis.
William A. Smith's diary has been digitised and can be viewed via SLQ's One Search catalogue.
Young Australia. John Oxley Library, State Library of Queensland. Neg 1719
Mildred Alice Howell, 1947. John Oxley Library, State Library of Queensland
Mildred Alice Howell, known to her friends and family as Millie, was born on 18 July 1912 and was married to Frederick Leslie Howell, a member of the National Fire Service in England during World War II. Mrs Howell supported the war effort by working for Imperial Chemical Industries, the inventor of Barrier Cream and polychromatic paint. Despite losing two baby girls during the German air raids on Birmingham in 1940 she maintained a positive outlook, knitting and reading stories to her children by the light of candles and hurricane lamps.
Mrs Howell emigrated to Australia with her husband and two children, Henry and Yvonne, aboard the "Largs Bay" in 1947. At the time of the voyage to Australia she was 35 and her husband Les was 37. Yvonne and Henry were nine and ten years of age respectively. When the Howell family arrived at Yungaba migrant reception centre at Kangaroo Point in Brisbane they were among the first twenty-two immigrants to travel on assisted passage from England to Australia after World War II.
She worked in various positions in hotels and at the Police Depot at Petrie Terrace, Brisbane. She was well loved and counted among her many friends Gough Whitlam and Johnny O'Keefe. When she died in Brisbane on 1 March 1989 a full congregation attended her funeral service led by the Dean of Brisbane at St John's Anglican Cathedral. The diary passed down to Henry Howell after the death of his mother Mildred Alice Howell in 1989.
A small notebook used as a shipboard diary by Mildred Alice Howell during her family's voyage as assisted passengers on the "Largs Bay" from Tilbury, England to Brisbane, Australia via Sydney from May to July, 1947. Daily events and places visited are recorded, including the Bay of Biscay, the Mediterranean Sea, Port Said, Suez Canal, the Red Sea, Aden, the Arabian Sea, Colombo, Perth, Fremantle, the Great Australian Bight, Sydney, and Brisbane. Descriptions of the weather, the heat experienced during the journey, and the types of food enjoyed, especially chocolates and other sweets, recur throughout the diary. Activities on board ship are noted, as well as bouts of illness, and major occurrences such as the rescue of an engineer injured on the Norwegian Ship "Hoegh Silver Star."
Mildred Alice Howell's diary has been digitised and can be viewed via SLQ's One Search catalogue.
Largs Bay ship. John Oxley Library, State Library of Queensland. Neg 158560

OM90-78 Almora Shipboard Diary 1882-1883
A shipboard diary kept by an unidentified passenger on the barquentine-rigged steamer "Almora" on a voyage from London to Brisbane. The S S "Almora" was a Royal Mail Ship of the British India Line. Entries begin when the ship leaves Plymouth on 22 November 1882 and end when the writer disembarks at Flat Top Island in the Mackay district on 16 January 1883. The diary gives details of the passengers aboard ship, noting a large number of German emigrants. The weather is described from day to day, and places visited, including the Bay of Biscay, Gibraltar, the Mediterranean Sea, Algiers, Pantelleria Island, Malta, Port Said, Suez Canal, the Red Sea, Aden, Batavia, Bali, Prince of Wales Island in the Torres Strait, Cooktown, Bowen, and Mackay.
Entries beginning from the opposite end of the notebook appear to be from the same voyage although the initial date is incongruous. Most of these entries describe the harsh supervision of the single female passengers by the matron, Miss Chase.
The Almora diary has been digitised and can be viewed through SLQ's One Search catalogue.
Almora (ship). John Oxley Library, State Library of Queensland. Neg 43560
Comments
Your email address will not be published.
We welcome relevant, respectful comments.