Federal Election 2013 ephemera and more
By JOL Admin | 11 October 2013
The 2013 Federal Election is now some weeks behind us although not all the results are in as a recount continues in the seat of Fairfax where Clive Palmer continues his bid to join the Federal Parliament and a recount of Senate votes in Western Australia has just been ordered. The State Library has been working to document the election as played out in Queensland on several fronts. We made our usual efforts to collect ephemeral material such as mailouts and how-to-vote cards from around the state. Our web archiving activities for this election started last year when we began to request permission to archive websites from candidates – we know from experience that getting permission can be a long process. We have captured a variety of sites for both candidates and parties including Kevin Rudd's Twitter feed, the Liberal National Party website and the website of controversial MP and former Speaker, Peter Slipper, who lost his bid to retain the seat of Fisher.
The electorate of Fairfax in the Sunshine Coast will be of interest to historians in the future. The result is yet to be decided with colourful Queensland busnessman Clive Palmer having a lead of just seven votes on the last count. We have a good selection of how-to-vote cards and other material from Fairfax, much of it featuring the bright yellow of the Palmer United Party.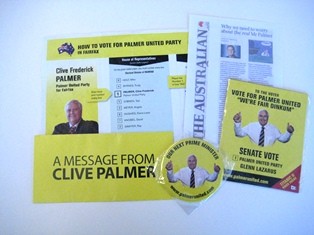 Election ephemera from the electorate of Fairfax
A more distant electorate featuring another larger than life character is the Far North Queensland seat of Kennedy held by Bob Katter since 1993 and previously held for over 23 years by his father Bob Katter senior. This year Bob Katter suffered a considerable swing against him but retained the seat nevertheless. Katter's distinctive hat features prominently in material gathered from Kennedy. The library has also archived relevant websites including Katter's Australian Party, Bob Katter MP and Bob Katter's Twitter feed @RealBobKatter.
Election ephemera from the electorate of Kennedy
The electorate of Forde south of Brisbane saw a change of candidate from the ALP with the original candidate Des Hardman making way for former Queensland Premier Peter Beattie. The Courier Mail newspaper made fun of Peter Beattie during the campaign by photographing a life sized cutout of the former Premier around the electorate while the real Peter Beattie was absent, campaigning in the north. The Courier Mail have now donated their Peter Beattie cutout to the State Library where he will find a home alongside life-size cutouts of Lawrence Springborg. The material we collected from Forde includes pamphlets from the original ALP candidate Des Hardman as well as Peter Beattie.
Election ephemera from the electorate of Forde
One of the features of the 2013 Federal Election has been the surprising role of minor and micro parties in the Senate election. This has seen David Leyonhyelm from the Liberal Democrats elected in NSW and Ricky Muir of the Motoring Enthusiasts Party elected in Victoria despite only receiving a tiny number of first preference votes. These micro parties did not feature so much in Queensland where former ruby league legend Glenn Lazarus took out the final senate seat for the Palmer United Party. We do have election material from a number of these small parties and independents, including Greg Rudd, brother of the defeated Prime Minister, who stood as an independent for the Senate. Greg Rudd's website has also been archived.
Election ephemera relating to minor parties
The 2013 election ephemera has been sorted and added to the ephemera collection where it can be accessed by researchers or interested members of the public. Thanks are due to all those that contributed material to our collections, both State Library staff, who brought in boxes of material from nearby electorates, and those members of the public and regional councils that contributed material from further afield.
Simon Miller – Library Technician, State Library of Queensland
Comments
Your email address will not be published.
We welcome relevant, respectful comments.