Exhibition to commemorate contribution of Sunshine Coast Anzacs
By JOL Admin | 16 April 2015
Guest blogger: Chrissy Fletcher - Adopt a Digger Project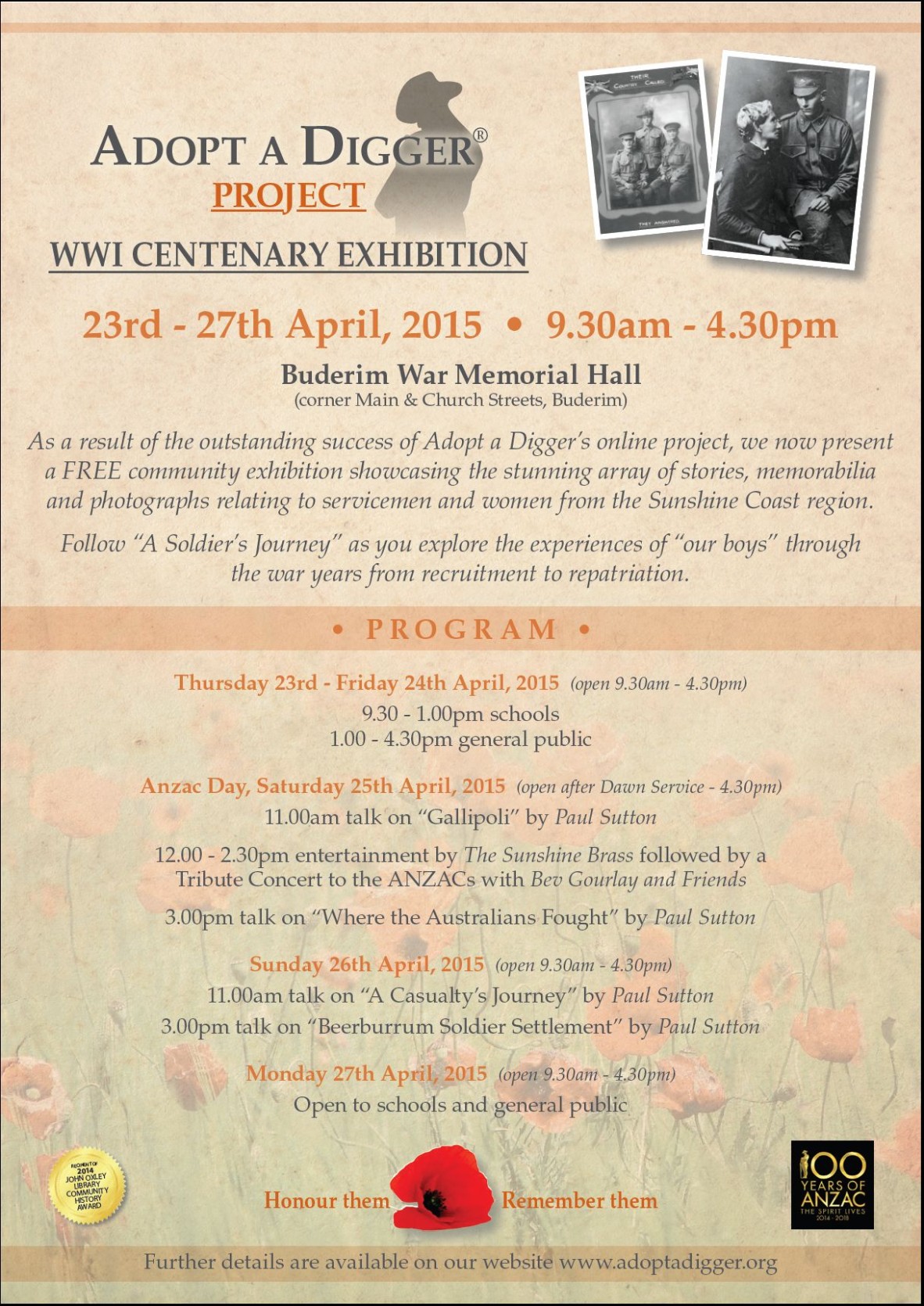 WW1 Centenary Exhibition at Buderim War Memorial Hall
WW1 Centenary Exhibition at Buderim War Memorial Hall
Founded in November 2010, the Adopt a Digger Project has captured the heart of the Sunshine Coast Community. Over 300 researchers and descendants from around Australia (and a few overseas) have adopted and are researching the history of the 2400 men and women from the region who served in World War One.
Adopt a Digger is an online project, a unique database containing the histories of the community's WWI diggers. In 2014 Adopt a Digger was awarded the John Oxley Library Community History Award.
As the project has progressed, more and more family members are coming forward with stories, photos and memorabilia previously tucked away "in a shoe box under the bed". We have now created a Photo Gallery on the website to showcase these findings, which is being constantly updated as images are received.
Previously unknown district gratitude medals have surfaced and there are now ten from different towns in the region. What happened to the hundreds of others? These medals are beautiful gold pendants treasured by family members and will be loaned for our exhibition in April.
To showcase this stunning array of ephemera and stories, Adopt a Digger will be holding a WWI Centenary Exhibition from April 23 to April 27, 2015 at the Buderim War Memorial Hall. Opening hours are 9.30am to 4.30pm daily, with an Anzac Day opening immediately following the Buderim Dawn Service.
Visitors can follow "A Soldier's Journey" from recruitment to repatriation featuring the stories of our local diggers and nurses, and view a stunning array of memorabilia and photographs relating to "our boys".
"There is also a substantial amount of information and photographs on the 660 returned servicemen who took up land at the Beerburrum Soldier Settlement included in the exhibition.
Along with the displays there will be talks by a military historian, photographic presentations, war time music performances and light horse displays.
For more information on the Adopt a Digger Project, and to see a program of the Exhibition, visit our website and follow us on Facebook.
Comments
Your email address will not be published.
We welcome relevant, respectful comments.