Ernest Duncan: Soldier, Solicitor and State High Old Boy
By JOL Admin | 12 July 2018
Guest bloggers Grace Dowdle and Kelsey Frith : 2018 Mittelheuser Interns
As part of the 2018 Mittelheuser Internship Program, we had the opportunity to delve into some of the World War II collections held at the State Library of Queensland. Throughout the week, we had access to a range of original materials relating to Queensland's involvement in the Second World War, specifically items from soldiers and prisoners of war. We were particularly drawn to the story of established solicitor and soldier Ernest Duncan upon discovering that he was a student at Brisbane State High School from 1926-1930, which happens to be the school we currently attend.
Ernest Duncan, Washington DC, 1945-1946
Born to Arthur and Bridget on February 25, 1914, Ernest Duncan graduated from State High in 1930 and became a clerk in the Queensland Public Service in the same year. He began studying Japanese in 1933 which later enabled him to work as a translator during the Second World War. Duncan graduated with a Bachelor of Arts and a Bachelor of Laws from the University of Queensland in 1939 and 1942 respectively.
Statement of Pilot Officer Ernest Duncan's Military Intelligence Service, 27 September 1945
Duncan was first called up for compulsory military training in 1941 before enlisting at Annerley in the Royal Australian Navy (RAN) and then the Royal Australian Air Force (RAAF). In September 1943, Duncan was assigned to the Air Industry Section (AIRIND), an Allied Research Intelligence unit which reported information to the Allies about Japanese aircraft as well as potential targets for future bombing raids. He worked as a Japanese translator and later as the Chief of Translation Team in August 1944 after AIRIND was transferred from Brisbane to Washington DC. Duncan took up a UN posting to Shanghai and was later commended for his work with the United Nations Relief and Rehabilitation Administration (UNRRA) in alleviating the suffering of victims of war.
Certificate of appreciation for 'loyal and valued service' issued to Ernest Duncan, 1947
Ernest married Valda Markham in 1947 at the British Consulate in Shanghai, where he worked at the law firm of Jacobson, Duncan and Yao. Due to the rise of communism in China, he and his wife returned to Brisbane in 1949 where he specialised in criminal law until his death in 1993.
Ernest Duncan age 45, taken in 1959
For more information about Ernest Duncan or to access the original materials, visit the State Library Original Materials Collection through the One Search portal.
Further information about the AIRIND can be accessed here.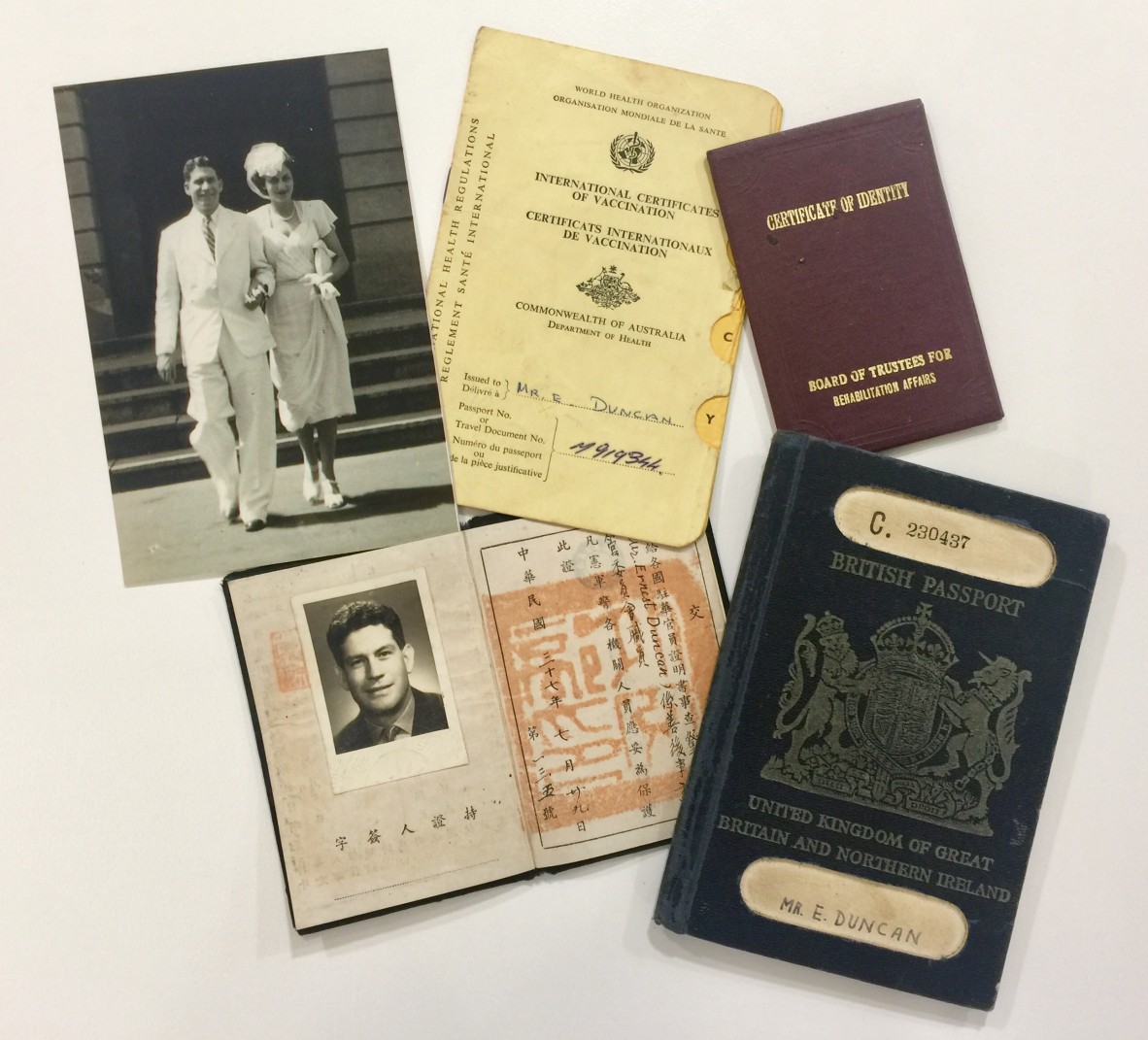 Ernest's wedding photo 20 June, 1947; certificates of vaccinations; certificate of identity and passport (issued in Washington DC on 13 December, 1945)
For one week of the June / July school holidays two high school students join staff of the State Library of Queensland to learn more about the professional activities undertaken at State Library due to a generous donation by long time donor to the Queensland Library Foundation, Dr Cathryn Mittelheuser, AM. This year two students from Brisbane State High School, Grace Dowdle and Kelsey Frith were successful in their application for the internship, working on completing the Budding Historian Module. The girls worked with Collection Building, Collection Engagement and Preservation Services over five days. This blog story is the result of their work with the Collection Engagement team.
Grace Dowdle and Kelsey Frith search for treasures in State Library of Queensland original materials collections
Comments
Your email address will not be published.
We welcome relevant, respectful comments.