Edward HILL #3238
By Marg Powel & Des Crump | 13 November 2017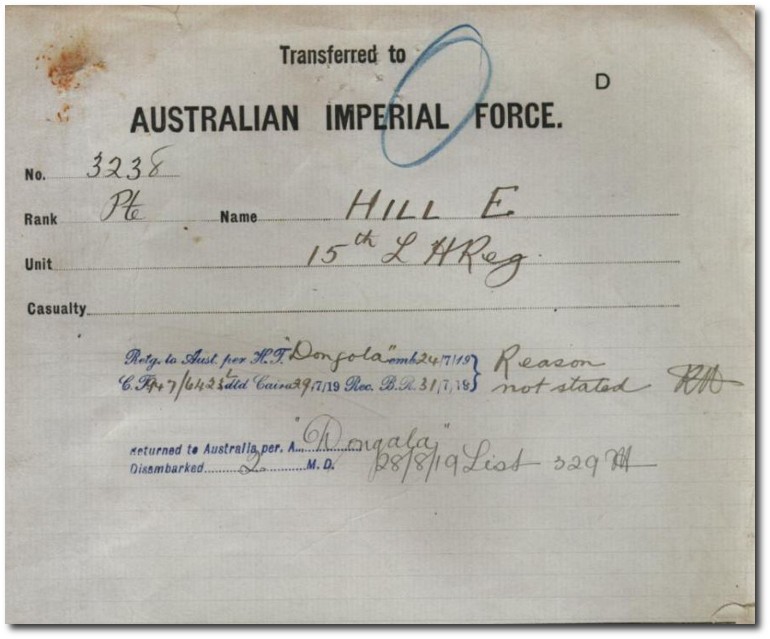 Edward Hill, extract from Service Record.
Indigenous Australian, Edward HILL, 1st & 15th Light Horse Regiments
Edward HILL was born in Goondiwindi in 1894 and was assigned three service numbers - and to three units before being selected for the 26th Reinforcements for the 1st Light Horse Regiment. Having enlisted at Narrabri, NSW in March 1916 he trained at Armidale before attending the Light Horse Training camp at Menangle Park. Hill embarked from Sydney on board the troopship Morea in February 1917. They disembarked at Bombay and transferred to HT Mashobra before finally reaching Port Suez in April 1917.
Initially placed in the Reserve camp, Hill was transferred to the 15th Light Horse Regiment, which was formed in Palestine in June 1918. Hill was hospitalised in November 1918 with malaria, and after a period in the Rest Camp at Moascar was returned his unit in the field.
The 15th Light Horse remained on operational duty after hostilities ceased, to assist with the civilian Egyptian uprising in March 1919. Edward Hill returned to Australia from Egypt in July 1918. Correspondence on his service record shows that he was living in the vicinity of Lightning Ridge, NSW in 1939. At this time he made application to join the area RSL, and was issued his previously unclaimed war medals.
The information in this blog post has been researched by State Library staff and volunteers, it is based on available information at this time. If you have more information that you would like to share or further research uncovers new findings, this post will be updated.
Comments
Your email address will not be published.
We welcome relevant, respectful comments.