Documenting Queensland's Wartime Heritage
By JOL Admin | 21 November 2011
Have you ever found weathered concrete structures in the scrub or near the beach in Queensland, and wondered what they were? The Department of Public Works has designed a website: Queensland WWII Historic Placesopen_in_new to answer questions about Queensland's World War II sites
As part of the project Dr Jack Ford, Brian Rough and Dr Brian Sinclair collected images, maps and information for a number of WWII places in Brisbane and South East Queensland. On Wednesday 16 November in the last of our Out of the Port lunchtime lectures for 2011 they discussed their research methods and the various types of wartime sites they uncovered.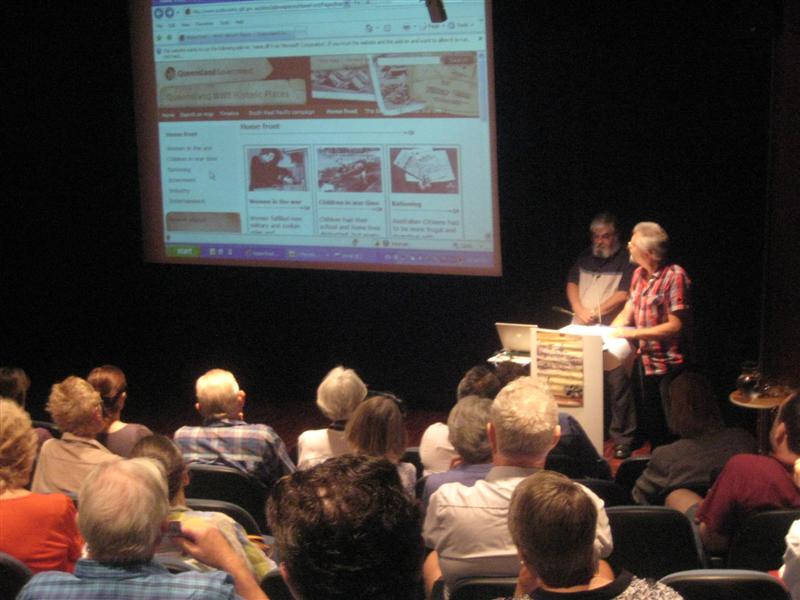 Demonstrating the Queensland WWII Historic Places website.
Brian Rough and Jack Ford are both long serving, experienced historians with the Brisbane City Council's Heritage Unit, and have an interest in military history. Brian was a major contributor to the work Brisbane, 150 Stories: 1859-2009; while Jack has published Allies in a bind: Australia and the Netherlands East Indies in the second World War.
Brian Sinclair is a Senior Heritage Officer in the Heritage Branch, Department of Environment and Resource Management (DERM). He researches a variety of places nominated for entry in the Queensland Heritage Register, but is particularly fond of military sites.
All three have worked together recently as contributors to the multi-author book A Most Promising Corps: Citizen Soldiers in Colonial Queensland, 1860-1903.
The Out of the Port series of free lunchtime talks, presented by State Library's John Oxley Library and the Department of Environmental and Resource Management will recommence next year.
Special thanks to our partners at DERM and to all who presented and attended our sessions in 2011.
Simon Farley - Arts Portfolio - State Library of Queensland.
Comments
Your email address will not be published.
We welcome relevant, respectful comments.