Digitised@SLQ: letters of Army Chaplain David John Garland
By JOL Admin | 14 October 2015
Canon David John Garland, John Oxley Library, State Library of Queensland Image 28069-0001-0003
Canon David John Garland, John Oxley Library, State Library of Queensland Image 28069-0001-0003
As senior army camp chaplain in Queensland 1914-17, Anglican clergyman Canon David John Garland experienced the First World War both at home and at the front.
Born in Dublin in 1864, Garland is described in the Australian Dictionary of Biography as 'overpoweringly energetic with a distinctive flair, if not genius, for organisation'. He played a pivotal role in the Queensland experience of the war, and was a central figure in a variety of committees and organisations established to aid the war effort and support or commemorate serving or returned soldiers.
Portrait of a young David John Garland
Portrait of a young David John Garland
In 1902 Garland became rector of Charters Towers, a canon of St James Cathedral, Townsville and was appointed archdeacon of North Queensland in 1903. At the outbreak of war he was in Brisbane, and served as chaplain to soldiers in training camps, as they prepared for active service overseas.
Long a crusader for religious education in schools, Garland devoted much energy to the Bible in State Schools League in Queensland, and he redirected this energy to provide Bibles and prayer books to Queensland soldiers at the front.
Letter from Canon Garland in Brisbane to Chaplain Capt C Warren Tomkins, at No.2 A General Hospital, North France. Graland mentions the Soldier's Help Society, and the building of the Kitchener Memorial Chapel at Camp Headquarters Hospital. OM71-51/44
Official recruiting team during a recruiting rally ca. 1915. John Oxley Library.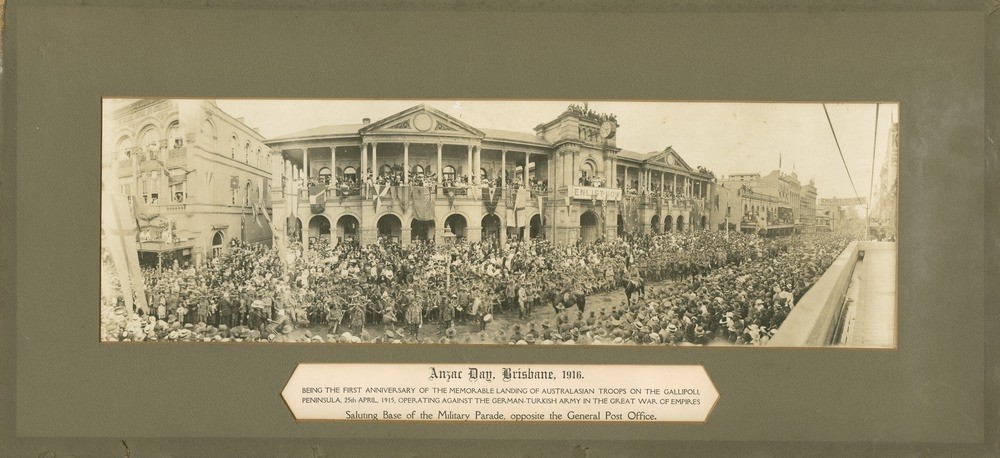 Military parade on the first Anzac Day anniversary in Brisbane Queensland 1916
Military parade on the first Anzac Day anniversary in Brisbane Queensland 1916
In 1917, he travelled to Egypt and served 1918-19 in the Middle East where he founded eight clubs for Australian troops, and was the first chaplain to celebrate the Eucharist in the Anglican chapel of the Church of the Holy Sepulchre following the expulsion of the Turks from Jerusalem. In addition he raised funds for memorials and hospitals, and for soldiers' hostels and care of soldiers' graves at home and abroad.
Letter from Sister Edith Avenell, No.3 Stationary Hospital, Boulogne, France to Canon Garland, Brisbane. She describes in detail nursing wounded Australian troops and conditions in the hospital. OM71-51/19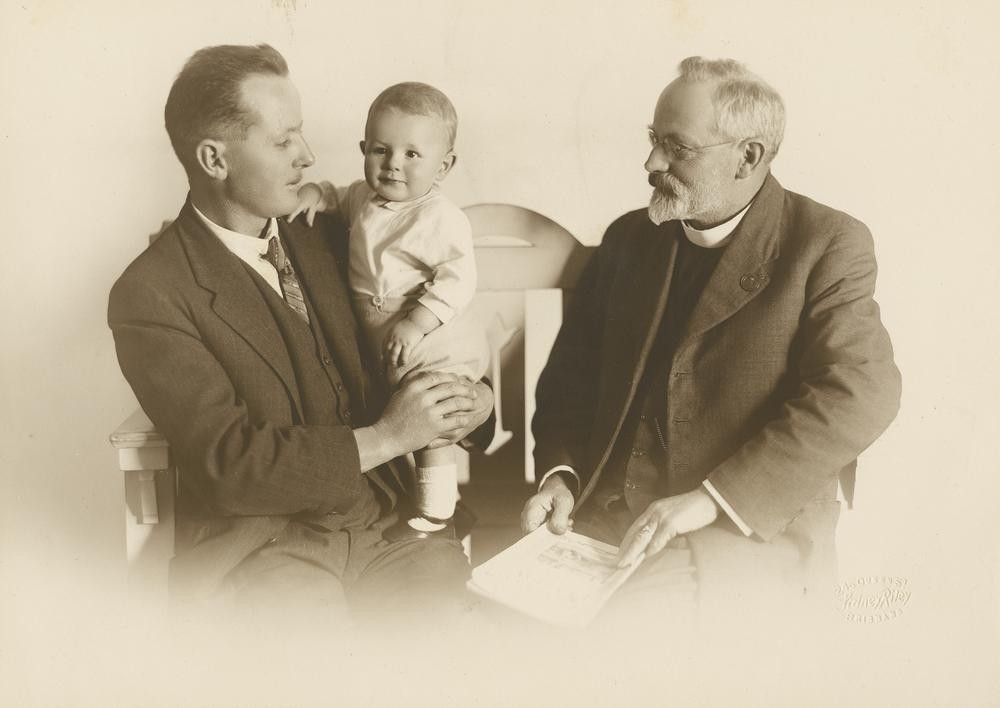 Three generations of the Garland family
Three generations of the Garland family
State Library holds various collections of Canon Garland's papers, and earlier this year, State Library digitised the First World War letters found in the OM71-51 Canon David John Garland Papers 1915-1918; 1934. This collection consists of letters received by Canon Garland from Australian army soldiers, nurses and chaplains serving abroad during World War I, as well as carbon copies of his replies. Included are letters from his colleague The Reverend William Maitland Woods regarding the discovery, evacuation and transportation to Australia of the Shellal Mosaic. State Library volunteers have also undertaken transcription of the letters, and you can now read the transcriptions alongside the digitised letters in the collection. Some of Garland's letters are also part of the OM74-101 Maitland Woods Papers 1915-1916.
Robyn Hamilton – QANZAC100 Content Curator, State Library of Queensland
Comments
Your email address will not be published.
We welcome relevant, respectful comments.