Digitised @ SLQ: South Sea labourers return to islands, 1901
By JOL Admin | 2 July 2013
The Mountain tops of Lemuria. The Kanaka: a remnant. Harold Maclure. 1901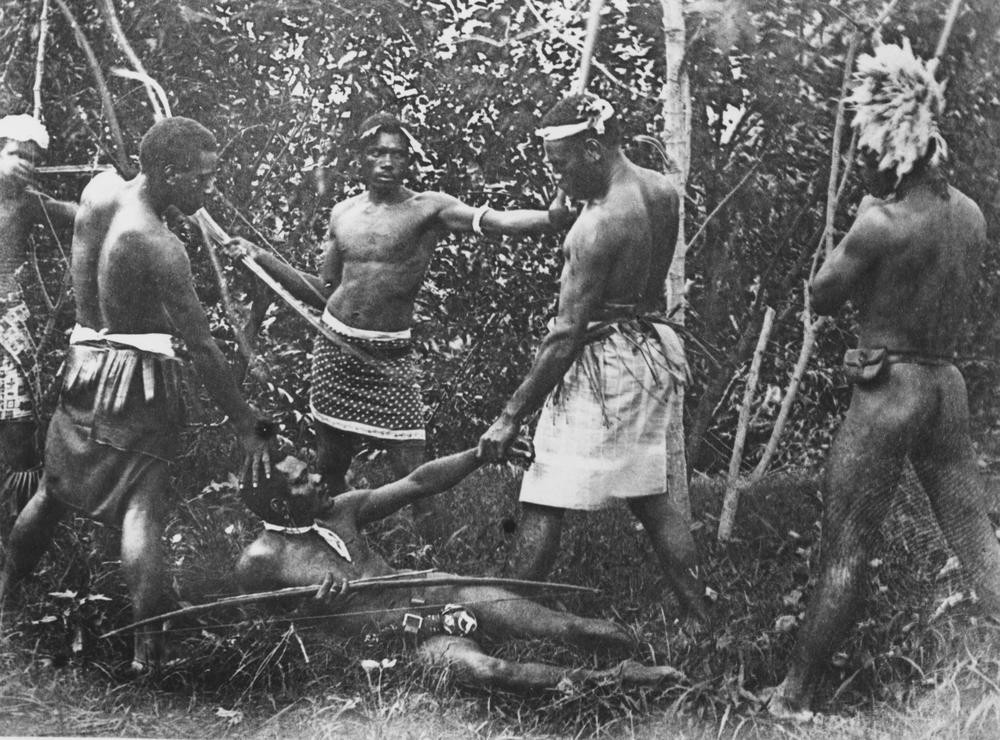 Australian South Sea Islanders in traditional dress on Hamleigh plantation near Ingham, Queensland, ca. 1887. John Oxley Library, State Library of Queensland. Neg 18054
The author of this book travelled through the hypothetical land of Lemuria as a government agent in the late 1800's. He never specifically mentions a date. He travelled on the ship Petrel, which had been chartered to convey Polynesians (who had fulfilled the term of their term of agreement) back to their respective lands. The Petrel was also on a mission to recruit more voluntary labourers to take back to Queensland. However, it is never clear how many islanders volunteered to go to Australia, but whatever the number was, it was very small.
With 150 recruits on board, he writes in detail about dropping the labourers back to each of their islands - Sandwich Island, Tanna, Erromanga, Mare, Tonga, Espiritu Santo and Lifu and others. He describes the social conditions on the islands and goes to great lengths to describe the daily events that took place. Sightings of other recruiting boats and the different reactions of some of the islanders on their arrival makes fascinating and informative reading.
Maclure raises his opinions on many occasions. He believed that Europeans were not capable of working on the plantations in far north Qld because of the severe climate, and that the Islanders were better suited to working in this harsher environment. He philosophised that animals are "entitled to privileges of 'prevention of cruelty to animals' surely the Polynesian, with all the potentialities of humanity within him, claims protection". His belief in the reality of the "lost land" Lemuria and the race of Lemurians is an underlying theme of the book. He believed "the ego of the ancient Lemurian awaits reincarnation within the frames of the new race springing up in Australia through the amalgamation of older races attracted thereto from all parts of the world".
This book review is part of an ongoing series by State Library staff who have volunteered to review heritage collection materials about labourers who were brought to Queensland from the South Sea islands beginning in 1863.
Comments
Your email address will not be published.
We welcome relevant, respectful comments.