Digitised @ SLQ - Slave trade in the New Hebrides
By JOL Admin | 16 July 2013
Slave trade in the New Hebrides : being papers read at the annual meeting of the New Hebrides Mission held at Aniwa, July 1871
In an epic battle that used 19th century-style social media, missionaries published this 143-page single-spaced rebuttal to attacks by the Queensland press about South Sea Islanders who were working as labourers in Queensland's sugar industry during the 1800s. The publication open_in_newsaw world-wide distribution as it went "viral" at Scotland's 1871 Annual Conference of Missionaries labouring in the New Hebrides.
Author Reverend John Kay worried that Australia's "Polynesian Labourers' Act" would degenerate into a slave trade, especially in Queensland. Queensland's members of the press on the other hand were assailing missionaries, stating that the sugar industry in Queensland was doing more for the civilisation of natives than the missionaries could do in 50 years. Editorials from the time, according to Kay, noted that missionaries were interferring with commerce in Queensland.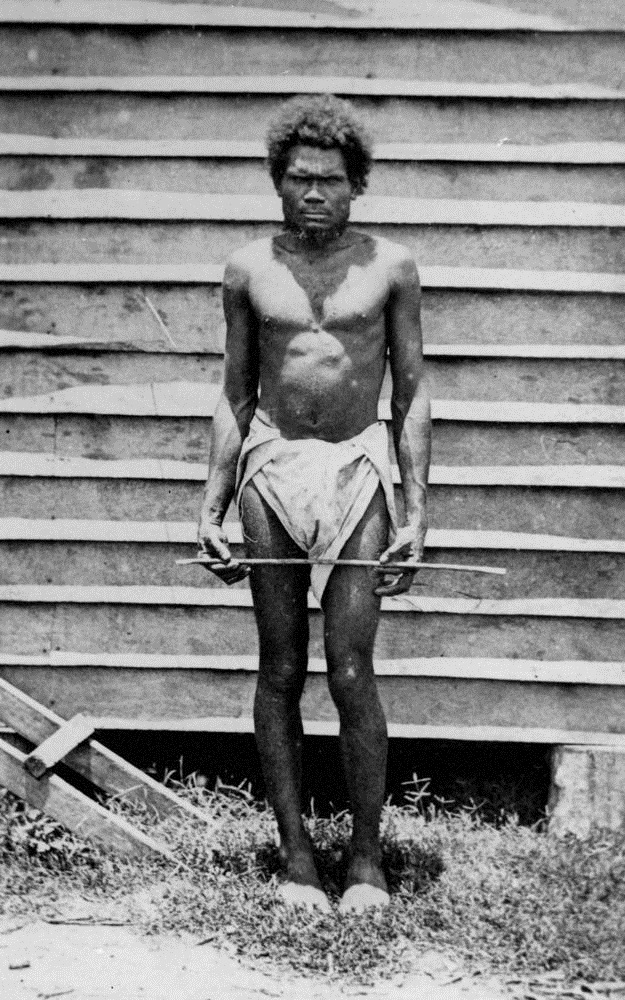 Portrait of a South Sea Islander at Foulden plantation near Mackay, Queensland, ca. 1880. John Oxley Library, State Library of Queensland. Neg 172010
Missionaries assumed full battle position with words as weapons, writing that South Sea Islanders were being taken against their will to Queensland, either by force or by trickery. Stories circulated about people being forced into hatches or being tricked by traders into believing they were going on a pleasure trip to Sydney, only to go straight to Queensland to work as labourers.
Missionaries noted that while there were some 20 or 30 dialects spoken in the islands, traders brought in translaters who only spoke a few words of one or two dialects. Often repeated is the story of translaters holding up 3 fingers when asked how long. Many natives thought it meant 3 moons or months, only to find that it meant three long years of work in Queensland.
A primary argument put forward by the missionaries was that they had spend 40,000 pounds to Christianise, civilise and educate "these poor, defenceless natives" (p. 7) and had been doing so for some 80 years with results. Island mission servants were exhorted by missionaries, however, to make contributions to the mission from their labour, their property or their money. The Maryborough Chronicle notes that the natives were eager to escape from the missionaries! (p. 22).
The pamphlet favours extremely volatile phrases such as "slave trade" and noted that Queensland planters were . . "extracting fortunes from the bones and sinews of the natives, and quietly transmuting their blood and muscle into gold." (p. 21) Much is also made over the mortality rates of islanders both in Queensland and in the islands. Arguments noted by Queensland press stated that just as many Europeans were dying as well!
The pamphlet makes for captivating reading 150 years later as we realise how difficult it was to travel and to get facts rather than hearsay when human lives were at stake. Through inflammatory innuendo, rumour, gossip and fanciful writing, we can read between the lines to realise that both sides stood to gain from ancestors of today's Australian South Sea Islanders.
This book review is part of an ongoing series by State Library staff who have volunteered to review heritage collection materials about labourers who were brought to Queensland from the South Sea islands beginning in 1863.
Comments
Your email address will not be published.
We welcome relevant, respectful comments.