Digitised @ SLQ - QLD Government Action Plan for ASSI, 2001
By JOL Admin | 25 July 2013
Queensland Government Action Plan: Australian South Sea Islander Community
Reviewed by Olivia Robinson, Manager, Research, Advocacy and Partnerships, State Library of Queensland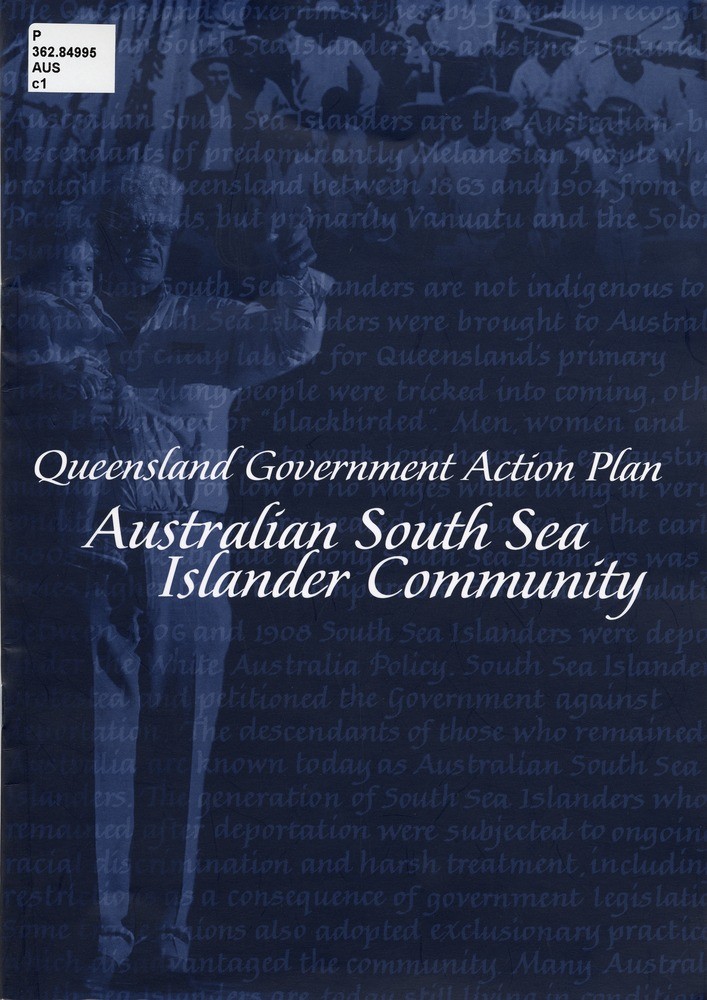 The Queensland Government Action Plan: Australian South Sea Islander Community (the 'Action Plan') was developed in July 2001 by the then Beattie Labour Government and is now considered an historic document as opposed to an active policy of the current Newman Coalition Government.
The Action Plan is historically significant as it was part of the Queensland Government's formal recognition of Australian South Sea Islanders as a distinct cultural group. In September 2000, and with bi-partisan support, the Queensland Government released a Recognition Statement of the Australia South Sea Islander community in which is stated:
"Australian South Sea Islanders' unique spirituality, identity and cultural heritage enrich Queensland's cultural diverse society. For more than a century their culture, history and contribution to Queensland have been ignored and denied.
Even today there is little knowledge or understanding among the Australian community about Australian South Sea Islanders."
The Action Plan was initially developed to outline a whole-of-government approach to address the needs of Australian South Sea Islanders and includes a brief overview of their history in Queensland. The document also includes information about the Action Plan, why and how it was developed, how it was going to be implemented, and how implementation would be evaluated.
The overall aim of the Action Plan was to coordinate the actions of the Queensland Government to improve access to services for the community, increase awareness, understanding, and knowledge within government and the broader Queensland community of Australian South Sea Islander history, culture, and community, assist in community development, and address issues of discrimination and prejudice.
The Action Plan also outlined how it would address five key issues and why those issues were important for Australian South Sea Islanders. They included:
1. improvement of Australian South Sea Islanders' access to mainstream services
2. need for better awareness within government of Australian South Sea Islander issues
3. need for enhance community awareness of Australian South Sea Islanders
4. need for community development
5. need to address discrimination against Australian South Sea Islanders
Under each issue or category, the Action Plan outlined specific cross-government actions and actions specific to the Queensland Government departments that existed at the time. It is unknown how many were delivered following the release of the plan.
In 2013, Australian South Sea Islander contributions to Queensland over the past 150 years will be commemorated and their contemporary culture and community celebrated with events, performances, and workshops across the Queensland. Link here to programs for the Anniversary Weekend, 16-18 August 2013 and for more information.
This book review is part of an ongoing series by State Library staff who have volunteered to review heritage collection materials about labourers who were brought to Queensland from the South Sea islands beginning in 1863.
Comments
Your email address will not be published.
We welcome relevant, respectful comments.