Devon House, Marburg, former home of the Dance Family
By JOL Admin | 1 December 2010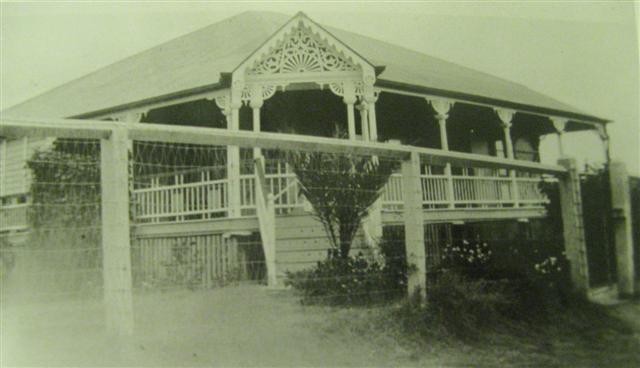 Devon House, JOL Negative number: 35188
Marburg's settlers came mainly from Germany, England and Ireland, and some can be found listed in the Queensland Post Office Directories. George Dance is listed as a Storekeeper in Marburg, while his brother William Henry, a farmer at Kirchheim.
Dance family, ca. 1905 JOL Negative number: 51327
The Dance family were well known in the Marburg district. William Henry Dance arrived in Brisbane on the 8 February 1885 on the steam ship New Guinea, which Captain Morrat had sailed from London, departing on the 4 December 1884. William was listed in the shipping records as being a bounty immigrant and 18 years old, a single man who was able to read and write. His occupation was given as a farmer and native place of birth England. In 1888 William and his brother George were married. George married Wilhelmina Friedericke Schmidtchen and William was betrothed to Amelia Christina Retschlag.
Marburg was a community that had been settled predominantly by German Immigrants and had been named after a Prussian town, in the Province of Hesse-Nassau. It was known by many different names during its initial settlement. These were: First Plain, Sally Owen Plains, Rosewood Scrub, Frederick (after a local settler Adolphus Ludwig Fredrick). William Henry Dance purchased land at Marburg in approximately 1915 and again in 1919 when he purchased a portion of land that was part of the original 40 acre allotment, which Edmond Moriarty an early settler had acquired by deed of grant. Adolphus Ludwig Fredrick was also a prominent land owner and businessman in the district and it is possible that the property known as Devon House was constructed by him. The Dance family did reside at this address in Edmond Street and one can only speculate that its name was in memory of their county of origin which was Devonshire, England.
This information was obtained using the collections of the State Library of Queensland, including material held in the John Oxley Library and the State Reference Library, as well as the Queensland State Archives and the Rosewood Scrub Historical Society.
Comments
Your email address will not be published.
We welcome relevant, respectful comments.