Designing Libraries
By Administrator | 23 February 2017
How do we design public libraries for the future? There are so many functions to provide for and so many challenges to overcome – how can we make the library experience better for users?
Queensland public libraries have responded to this challenge in different ways, as a number of major new developments have occurred over the past few years. At the new Dudley Denny Library in Mackay, open plan and flexible space is the key. In Toowoomba, the new City library boasts community meeting rooms, a local history library, cycle centre, civic square and coffee shop.
Awards are a way of getting your library recognised – and here's Queensland some examples. The Corso at North Lakes, which houses the North Lakes Library, was the first public building in Queensland to achieve five "Green Stars" for being environmentally friendly. In Cooroy, a grassed roof that serves as an outdoor amphitheatre is just one of many design aspects which contributed to the library earning its place on a list of the world's coolest libraries. The Helensvale Library and Cultural Centre was recognised by the Queensland State Architecture Awards for being an outstanding example of integrated community service delivery.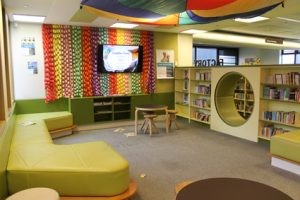 We need to continue to rethink how people interact with library services and spaces.
We need to continue to rethink how people interact with library services and spaces.
A new report, Designing Libraries in the 21st century, suggests that the most successful designs are those that are the simplest – open plan with good visibility across the floorplate and excellent connectivity - allowing staff and customers greater freedom to change the form and function of the public library over time. Yet, the simplest designs are not always the easiest to achieve, since open plan floors are often noisy, and flexibility involves careful planning.
The report provides an overview of how design is being used as a tool to enhance the experience of customers and change the behaviour of staff in public libraries in twelve locations across five countries in two international contexts. Download the full report (PDF) or read case studies on the researcher's blog.
Comments
Your email address will not be published.
We welcome relevant, respectful comments.