Design Finds with Jennifer Marchant
By Anita Lewis | 8 February 2017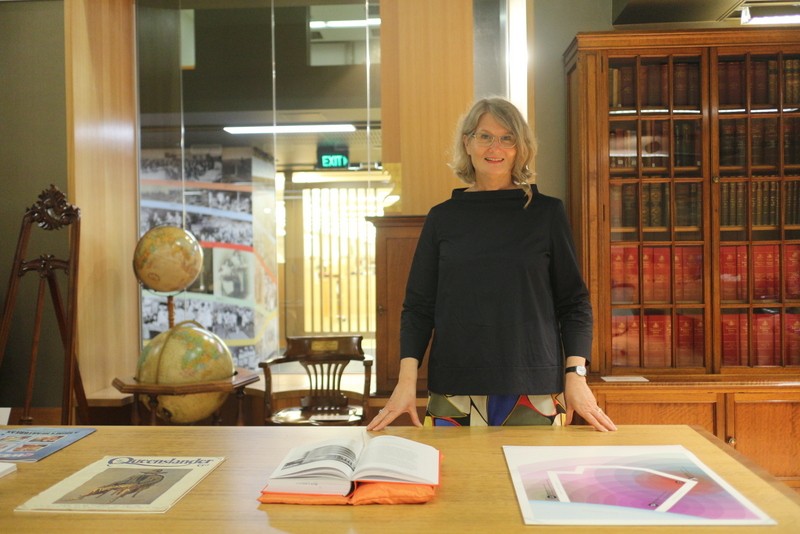 Jennifer Marchant presenting her Design Finds
Jennifer Marchant presenting her Design Finds
Libraries are an endless source of inspiration. In our series of designers accessing SLQ's collections, we discover the process followed by Brisbane visual communicator Jennifer Marchant who researched the serendipitous connection of Queensland creatives living in the suburb of Yeronga.
River Park and Grimes Estate, plan of allotments offered for sale by Cameron Bros. auctioneers, Saturday 26th May 1923. Lithographer H.T. James.
River Park and Grimes Estate, plan of allotments offered for sale by Cameron Bros. auctioneers, Saturday 26th May 1923. Lithographer H.T. James.
What was your approach to finding objects in the SLQ collections?
I have long been intrigued by my local area, Yeronga, and some of its residents, so it is fair to say I approached this opportunity with a preconceived idea. I am particularly interested in how one small area has been home to some remarkable individuals who shaped our cultural life. This seemed the perfect time to find out more about some of these people, what they did and the coincidence of them all living within a stone's throw of each other.
Were there any unexpected surprises in your dealings with the SLQ collections?
The unexpected surprise was how easy it is to use the library and how helpful the staff are. I have also enjoyed being within the space very much. Added to this has been the fun of making discoveries and connections through research.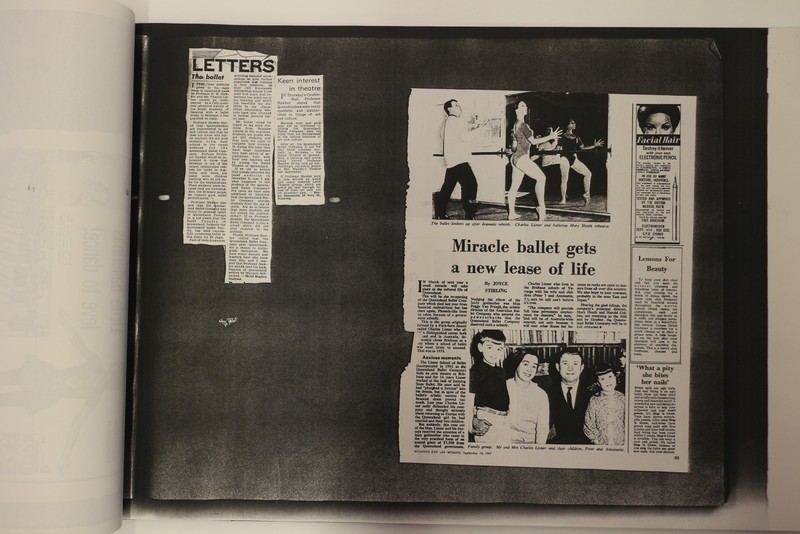 Scrapbook, the Charles Lisner Papers
Scrapbook, the Charles Lisner Papers
Why did you choose the five objects that you selected?
The first objects I wanted to investigate were maps of the area of Yeronga. I wanted to define the area I had in mind. I was excited to find my first object which clearly illustrates the area in which I live. The 1923 map of the Grimes Estate land sale is an advertising poster which sets out residential blocks most of which are in the same configuration today.
The remaining four objects each represent one of four residents, each of whom had a vocation within one strand of the arts. From a list of seven people within the same area, I chose individuals who made a significant contribution within Queensland and Australia to dance, writing, the visual arts and architecture.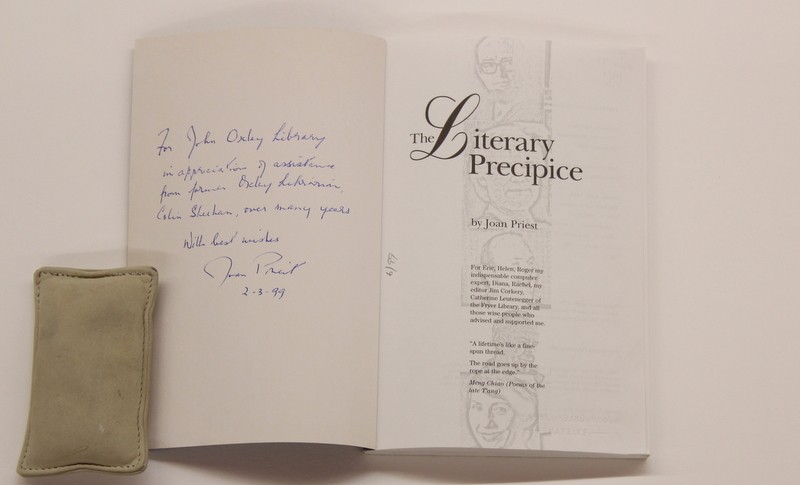 Joan Priest, The literary precipice, Mudgeeraba, Qld.: Scribblers Publishing, 1998.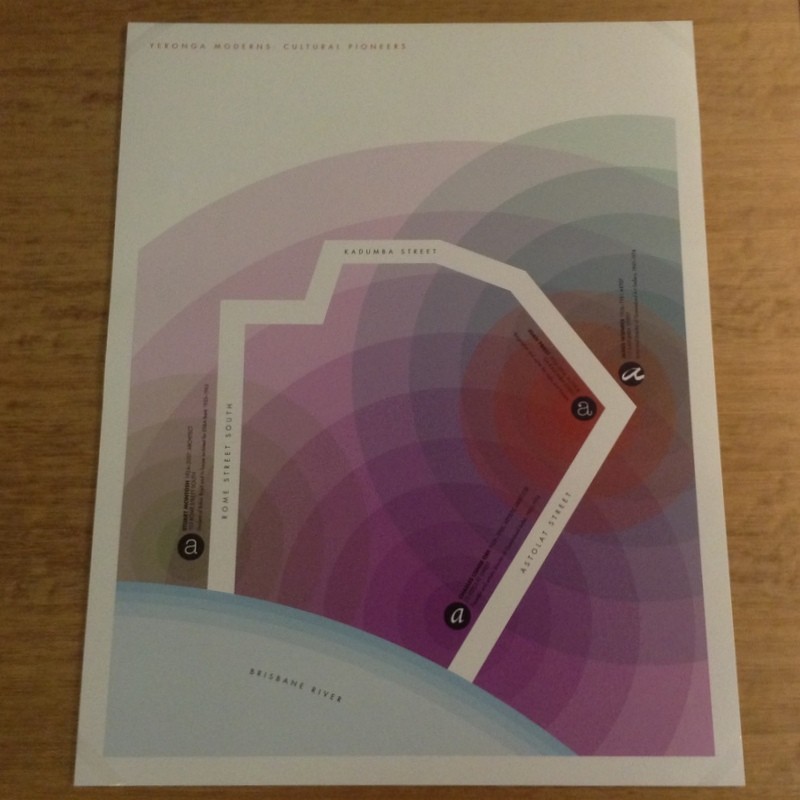 Contemporary map by Jennifer Marchant
Contemporary map by Jennifer Marchant
How was your creative response inspired by the five objects that you found?
I had one map / poster and four objects each representing one of four people and the challenge was to tie them all together conceptually. This has been my chance to test the idea of mapping for the inclusion of people but I was equally seduced by the idea of communicating this area and these people in a modern way. All these residents had made Yeronga home during the latter part of modernism, a sensibility that has informed my own approach to design.
Why did you decide upon this particular outcome for your creative response?
By designing another map / poster I felt I was 'book ending' the project. In between these two items are the people who influenced its creation.
Was the approach of finding inspiration from the past similar to how you currently work or different?
This process is very similar to how I work. The projects I have worked on during the last 12 years are primarily within the built environment. Each one is unique but the common thread for me is research into the site, its history, uses and users. Until I have a depth of information I cannot start the process of creating something that will be relevant to the site as well as enriching for the viewer.
Back to his Fathers by James Wieneke. July 12, 1934.
Back to his Fathers by James Wieneke. July 12, 1934.
How did that affect your outcome?
No different really. Starting with research for any project defines the success of the outcome.
Would you look to use a similar approach again in the future?
Yes. SLQ is a very comfortable place to be, as well as easy to use and efficient. It is a treasure trove of information, text and visual, a resource of people and items that go beyond any expectations or preconceived ideas I might have had. The surprise of SLQ is that it is all surprises. I love that. I'm looking forward to becoming a regular inhabitant. However, Yeronga will always be home.
This article is based on Design Finds Visual Communication which was presented by Jennifer Marchant and Nicole Phillips on 1 December 2016. You can read Nicole's Q&A here.
Comments
Your email address will not be published.
We welcome relevant, respectful comments.