Deepen the Conversation...Transforming Tindale
By Administrator | 23 October 2012
Jo-Anne Driessens spent over ten years working at SLQ where she first commenced a Photographic Cadetship. Until recently, she was a Project Officer in kuril dhagun where she was instrumental in the development of the space and its programming. She now works at the Bremer TAFE as an Indigenous Student Support Officer and will be presenting as part of Deepen the Conversation this Thursday at State Library of Queensland.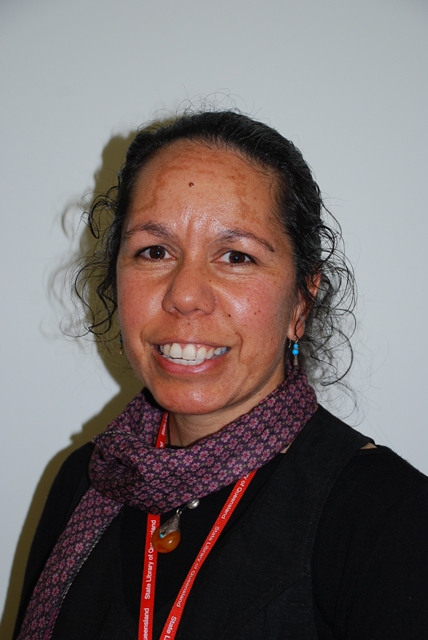 Jo-Anne has shared some of her personal thoughts and connections to the Tindale Collection and how, over time, it has unknowingly shaped certain moments in her life.
Her first experience with the collection
' I started my SLQ Photographic Cadetship in 1996 , I had to print copies of Tindale collection and I started then to ask questions about what the images where all about and who were these people.'
' In 2002, I moved out of the 'darkroom and into the light' within Indigenous Library Services and commenced front-line work with Tindale collection and material relating to A&TSI communities direct from the John Oxley Library.'
Personal connections to Tindale
'I believe my interest and curiosity in Photography has led me to my blood-family.
My relationship with the image of my Great Grandfather which is in the Tindale collection began as a negative number in a public order and my curiosity was born as I began to produce the image and bring it to life. Little did I know that this man was actually my blood relative and that the true nature of this journey began to evolve.
When I think about the image of my Great Grandfather in the Tindale collection, I see strength in his eyes & yet the image alone makes me feel sad. When I view this image as a Photographer, it says to me that this image was taken in a controlled situation, yet it is still a valuable resource. Today I look at the photo and I still have a sense of sadness towards how the research was conducted, yet feel so proud to be able place this alongside my own family photos and help re-claim my identity.'
Jo-Anne also mentions that when Vernon Ahkee first met her in the late 90's, she was working in the darkroom just starting her journey working with the collection.
This Thursday, Vernon Ahkee will be joined by Jo-Anne in a panel discussion, digging deep into the Tindale Collection and how captured histroes like this can take on a new life through visual arts and photograpghy.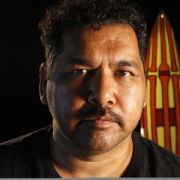 Deepen the Conversation: Transforming Tindale
Explore the history and legacy of Norman Tindale's anthropological expedition to study Aboriginal Australians in Queensland and Northern NSW communities, and the importance that this collection of records has for family and descendants. Collected under exploitative conditions, years later these records are both a source of contention surrounding the treatment of Aboriginal Australians and a valuable resource for relatives.
Complementing this panel discussion, Vernon Ah Kee will talk on his desire to imbue the Tindale images of his family with new meaning by producing beautiful portraits that capture the unique personalities behind the scientific photographs.
When: Thu 25 Oct 2012, 6:00 pm -
Venue:slq Auditorium 1, level 2
Cost: Free
Bookings: slq.eventbrite.com or 3840 7768
More information:
Events
07 3840 7768
learningparticipation@slq.qld.gov.au
Comments
Your email address will not be published.
We welcome relevant, respectful comments.