David Alexander Murphy, commemorated on Wikipedia
By JOL Admin | 1 August 2016
Guest blogger: Kerry Raymond, Q ANZAC 100 First World War Wikipedian in Residence
An important part of my role as First World War Wikipedian in Residence is helping other Queenslanders to add First World War content to Wikipedia. Recently I was privileged to meet with John and Jacklyn Hine here at the State Library of Queensland. John and Jacklyn are family historians and have researched their relative David Alexander Murphy, a young cabinet maker from Roma who enlisted in the First World War.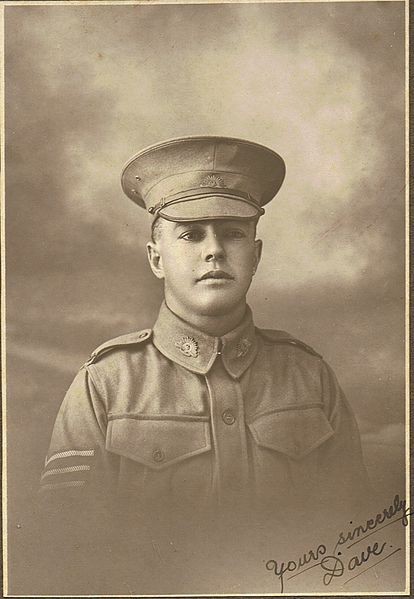 Signed photo of David Alexander Murphy Lance Corporal 15th Battalion of Roma
Image source: Wikimedia commons
Roma War Memorial
Image source: Wikimedia commons
While each tree originally had a plaque naming the man honoured, most of the plaques were dislodged and lost as the tree grew. John and Jacklyn Hine have visited Roma and researched the trees and now believe they can identify the soldier associated with each tree. David Murphy's tree was one of a small number of trees that did not survive, but those trees has been recently replaced with a new bottle trees.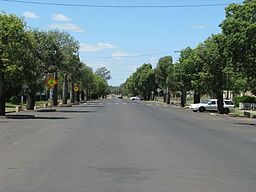 Bungil Street in Roma is lined on both sides with bottle trees in memory of Roma's fallen First World War soliders
Image source: Wikimedia commons
While poor David Murphy did not have many lucky breaks, the Hines were more fortunate. Shortly before they had contacted me, I had just written a Wikipedia article about the Roma War Memorial and Heroes Avenue. So when the Hines visited the library, Jacklyn Hine was able to use some of her new Wikipedia skills to add some information about David Murphy and some of the other Roma fallen soldiers to that Wikipedia article, together with a photo of David Murphy. The Hines are looking forward to adding more information to that article based on their research on David Murphy and Roma's other fallen soldiers.
If you are interested to learn how to add the history of Queensland during the First World War on Wikipedia, please contact the team via the email address qanzac100@slq.qld.gov.au.
Read the Wikipedia article on the Roma War Memorial and Heroes Avenue and David Alexander Murphy's military service record in his First World War held at the National Archives of Australia.
Kerry Raymond, First World War Wikipedian in Residence
Comments
Your email address will not be published.
We welcome relevant, respectful comments.