Creating stronger aged friendly Queensland libraries
By Administrator | 3 February 2017
Did you know there are more people aged over 65 than ever before? And it's no surprise to hear that in age-friendly communities, older people feel more connected and involved.
So what are libraries doing to support this increasingly aged population and supporting older adults to enjoy an active role in their local community?
Libraries are a vital community resource provided by Councils, supporting intergenerational cohesion through diverse activities and programs that promote literacy, social inclusion and lifelong learning — libraries are all age-friendly!
To help support libraries meet the needs of the growing ageing population, State Library is providing 63 library staff from 29 Councils the opportunity to undertake professional development through the Australian Library and Information Association's (ALIA) new online course Mature Matrix: library services for seniorsopen_in_new.
ALIA has partnered with Sydney TAFE to develop this three-week online course to help library staff increase their understanding of the issues and needs of seniors in their community and support them to provide targeted library services, programs and collections.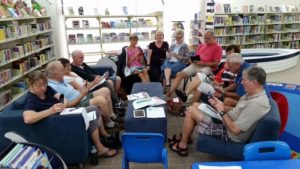 Tech Savvy Seniors Queensland training session at Whitsunday Regional Council Libraries.
Tech Savvy Seniors Queensland training session at Whitsunday Regional Council Libraries.
This training will not only support the future delivery and sustainability of the Tech Savvy Seniors Queenslandopen_in_new program which supports seniors to feel connected and part of the digital age; it will also empower library staff to develop new and innovative programs and services for older adults in their community.
The course kicks off on 14 February ... Library Lovers' Day ... so watch this space as the participating library staff will share what they have learnt and how their libraries and Indigenous Knowledge Centres will become even more age friendly.
Comments
Your email address will not be published.
We welcome relevant, respectful comments.