Could you be an SLQ Fellow in 2018?
By Administrator | 25 January 2018
Applications are now open nationwide for several fellowships as part of the 2018 Queensland Memory Awardsopen_in_new.
They include the prestigious John Oxley Library Fellowship, the Queensland Business Leaders Hall of Fame Fellowship, Letty Katts Award and four Q ANZAC 100: Memories for a New Generation Fellowships.
The aim of the awards and fellowships is to uncover unique Queensland stories, encouraging diverse voices and new ways of interpreting SLQ's collections.
Researchers and creatives from every background and discipline are invited to imaginatively respond to the unique collections of the John Oxley Library which includes manuscripts, maps, music, newspapers, oral histories, and rare, printed materials.
Successful recipients will have the opportunity to collaborate with specialist librarians, receive a stipend, access a personal workspace in the Neil Roberts Research Lounge and delve into the documentary heritage of SLQ's collections. Learn more about the Queensland Memory Awards or email us for information.
If you'd like to hear from past fellows, SLQ is hosting a fellowship information night on Friday 2 March as well as a Q ANZAC 100 fellows talk on Thursday 8 March.
Applications for all fellowship opportunities close 5pm Wednesday 21 March 2018.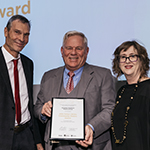 Annerley-Stephens History Group were the proud recipients of the John Oxley Library Community History Award in 2017. Photo by Josef Ruckli.I
Comments
Your email address will not be published.
We welcome relevant, respectful comments.