Cloudland comes alive with digital technology
By JOL Admin | 8 February 2011
It was one of those chance meetings with a library patron who came in to donate some published materials to State Library's Heritage Collections that highlighted for me – yet again – what incredibly interesting customers we have.
Mr Kyle Fysh
Mr Kyle Fysh works as a 3D Designer, which entails doing computer aided drawings to recreate models, usually of existing industrial sites such as process plants and power stations. His drawings have a range of practical uses and one of those is to see how new pieces of machinery, which Mr Fysh meticulously measures and places in to the scaled 3D site, will (or won't) fit within that proposed site.
Interior view of Cloudland ballroom, Bowen Hills, ca. 1950. Image number 83083.
During the course of our conversation Mr Fysh told me about his interest in State Library's Heritage Collections and his current project of recreating a scaled digital model of Brisbane's famous Cloudland Dance Hall that was demolished in 1982.
He had seen a TV program a couple of years ago about the making of the movie Titanic and how they used computer technology to recreate the historical ship. This inspired Mr Fysh to use his professional skills to embark on recreating an historical structure. He chose Cloudland because of his longstanding fascination with it. The project required a painstaking process of collecting information from every photograph and document that he could locate about it so he could add meticulous detail to his model. He used Heritage Audits, Plumbers Drawings, Arial Photographs, sizes quoted in publications as well as his extensive knowledge of standard building components.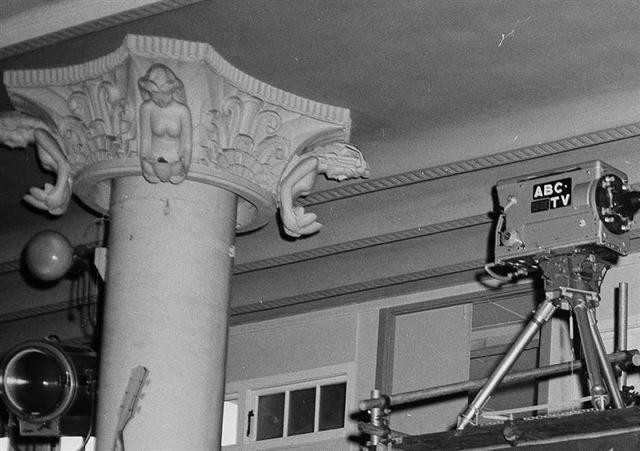 Cloudland Angels 1960. Kyle Fysh Collection.
Mr Fysh has generously agreed to allow his photos to be loaded onto the State Library's catalogue. He will, of course, remain the copyright holder, so the usual permission to reproduce conditions must be observed.
The research Mr Fysh has done for this project has made him quite an expert on his subject. For instance, did you know that on 2 August 1940, the complex opened as 'Luna Park' and it featured the Cloudland Ballroom and Alpine Railway? Or that American entrepreneur, T H Eslick sold 20,000 £1 shares to build 'Luna Park'? Or that W K McLuckie was the Chairman of Directors and Adolphus Parry-Fielder was the Architect? Or that famous acts including Jerry Lee Lewis, Buddy Holly, Split Enz, XTC, The Sports, Cold Chisel, The Stray Cats, The Saints, Australian Crawl, Echo & the Bunnymen, Midnight Oil, UB40, The Go-Betweens, & The Clash all performed at Cloudland. In 1980, taking to the Cloudland stage, a young Keith Urban won "best young male" at the ABC Country Music Show.
These and other facts are recorded in a detailed timeline that Mr Fysh has compiled. This has been added to our clippings file for this iconic Queensland building whose walls once reverberated with the sounds of wartime balls, big bands, rock-n-roll, punk music, and the fun and laughter of its many visitors and guests.
Leanne Day
Queensland Authors & and Legal Deposit Librarian
Comments
Your email address will not be published.
We welcome relevant, respectful comments.