Classical Music Library
By Kirsten Perris | 15 May 2020
Series: Our favourite State Library eresources.
People often ask us what our most loved eresources are. Admittedly we all have a favourite, or two, or three. It's hard to pick as there are so many wonderful State Library eresources available. In this series our Librarians and Library Technicians share with you their most favourite eresources and how they've been used to solve research queries.
Next in the series we look at Classical Music Library, a big favourite of Librarian Elli Torres.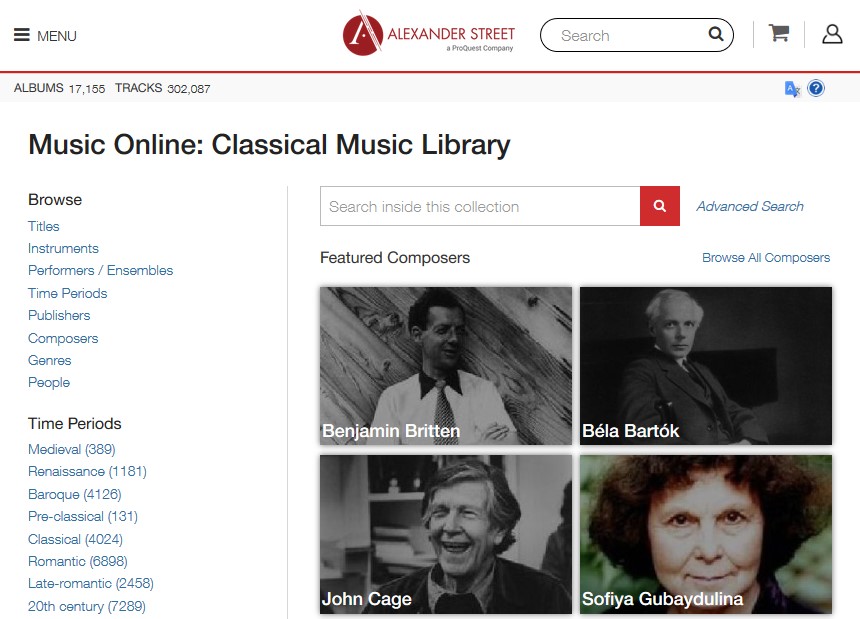 Image of Music Online: Classical Music Library database home page
So why is Classical Music Libraryopen_in_new so fabulous?
Classical Music Library has a growing collection of over 50,000 audio tracks for listening and enjoyment. The database is easy to use and has all sort of music to choose from.
Best of all, you can access Classical Music Library online from home with your free State Library membership.
Classical music and more
You can expect to find recordings of music written from the earliest times to the present, e.g. from Gregorian Chant to many contemporary composers. The classical repertoire ranges from vocal/choral music, to chamber, orchestral, solo instrumental, and opera.
The database has coverage of thousands of artists, composers, choreographers, and ensembles and includes many categories of music such as American, Classical, Jazz, Popular, Theatrical, Film, Dance, and World music.
A great resource for music studies
Classical Music Library includes multiple recordings of most major works, to enable comparative listening and comparative study.
Also, Classical Music Library is one of the several sub-databases within Music Online, a very large Alexander Street Press database. So even if you start your search here for sound recordings it is very easy to cross search for other related material in Music Online, including the score library and the reference collections. This means you can listen to your audio file while you follow along with the music score or read about the composer's life and musical works.
I particularly love the 'time period' browse category. It's such a fantastic way to discover the music of historical periods and listen to representative music of that time.
Medieval
Renaissance
Baroque
Pre-classical
Classical
Romantic
Late-romantic
20th century
21st century
A great resource for general listening and enjoyment
Music can be a great source for reflection, relaxation and awakening of emotions. There is so much musical inspiration in this database.
Get swept away by Beethoven's Moonlight Sonata
Sit back and relax with some soft instrumental music
Sing along to some fun nursery rhymes with your children
Tap your feet to some Jimmy Forrest jazzy tunes
Dance to some smooth Cha Cha Cha
Join now and start listening to some of the amazing music in Classical Music Library.
Look out for the next blog in this series #FavouriteEresources
Comments
Your email address will not be published.
We welcome relevant, respectful comments.