Christmas Day in Egypt, 1915: A Soldier's Letter
By JOL Admin | 14 December 2015
Queenslander, 28 November 1914, p.28
Queenslander, 28 November 1914, p.28
A wonderful and poignant description of Christmas day in Egypt, 1915, is contained in one of the letters of Private John Bain Moncrieff. Jack Moncrieff, as he was known, had a great sense of adventure and in 1906, at the age of fifteen, signed on as a cabin boy on a sailing ship to South Africa. The Moncrieff family, originally from South Australia, moved to Queensland in 1911 when Jack's father, Samuel Stephenson Moncrieff, an Anglican minister, was appointed rector of All Saints' Church, Mitchell. After returning to Australia Jack decided to go on the land and settled on a farm near Mitchell which was purchased for him by his father.
Jack enlisted for World War I on the 28th September with the 5th Australian Light Horse and after volunteering for the Regimental Machine Gun Section spent eighteen weeks at Gallipoli, being involved in the second landing. After his evacuation from Gallipoli with dysentery he was sent to Egypt for treatment where he spent his second Christmas away from home. His first Christmas in 1914 was spent on board the troopship "Persic" en-route to Egypt.
The following letter was written on Christmas night 1915 to his mother in Mitchell, Queensland. In the letter he describes Christmas day in Ma'adi, Egypt, receiving letters and parcels from home, Christmas billies from the Australian Comforts Fund, a church service and dinner. He writes "Altogether I've had a nice quiet enjoyable day, which only needed all my loved ones present to make it perfect". He also discusses the evacuation of Gallipoli which had occurred a few days before.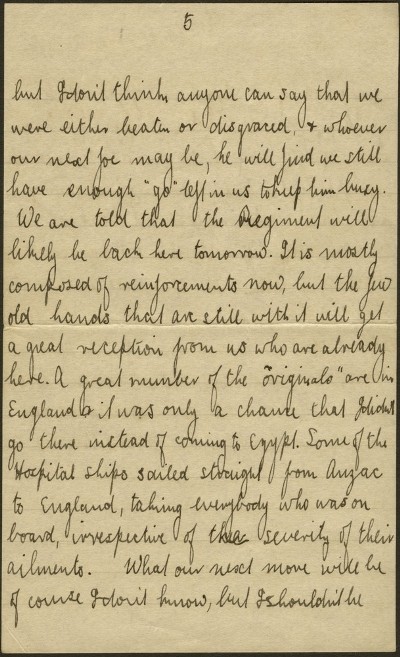 Moncrieff rose in the ranks, and after completing an advanced machine gun course in Zeitoun, Egypt, he was promoted to 2nd Lieutenant and offered a position as machine gun instructor. However, he missed the life of action and his mates and when the opportunity arose he transferred to the Machine Gun Company, 13th Infantry Brigade, serving on the Western Front. Sadly the Christmas of 1915 was the last which Jack Moncrieff would ever enjoy. He was killed in action at Mouquet Farm, France, on the 3rd September 1916, on the last day of the Battle of Pozieres. He was 25 at the time.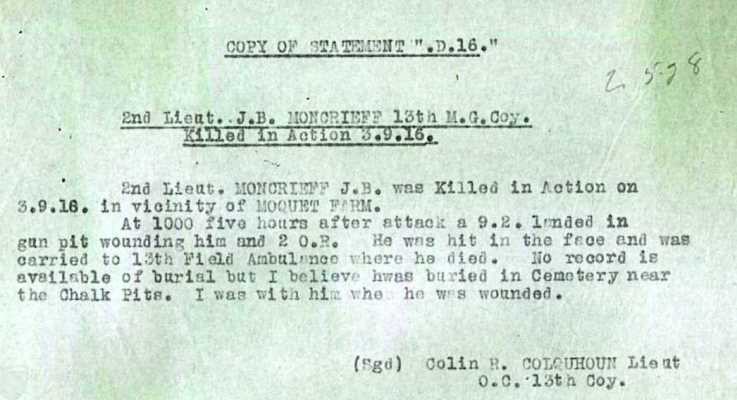 Australian National Archives. War Service Record for John Bain Moncrieff.
Australian National Archives. War Service Record for John Bain Moncrieff.
The John Bain Moncrieff Papers are part of the Moncrieff and Jenkyn Family Papers, R 98, which are held in the John Oxley Library. Parts of this collection have been digitised are available at: http://hdl.handle.net/10462/eadarc/5544
Further information regarding the John Bain Moncrieff Papers is available on our WWI Blog
Lynn Meyers, QANZAC100 Content Curator
Comments
Your email address will not be published.
We welcome relevant, respectful comments.