Business Studio focus on Indigenous arts
By Anonymous | 2 March 2017
Meet Leesa Watego: entrepreneur, creative, academic, and teacher.
Member of the Queensland Government's first Aboriginal and Torres Strait Islander Business and Innovation Reference Group, and a successful businesswoman herself, Leesa works with individuals, business owners and organisations to develop their digital and business strategies.
Leesa created her first business, Nyumba Goori Studies Consultancy, in 1994 when she was fresh out of university — quickly developing a passion for small business and Indigenous studies. Moving through academia during the next decade, balanced with her family responsibilities, Leesa then created Blacklines Publications to produce Indigenous educational resources.
She founded the Indigenous Business Networking 'Friday Coffee Morning' in 2014, is a presenter for Edgeware Creative Entrepreneurship, and has been a Director of the South East Queensland Indigenous Chamber of Commerce for the past three years.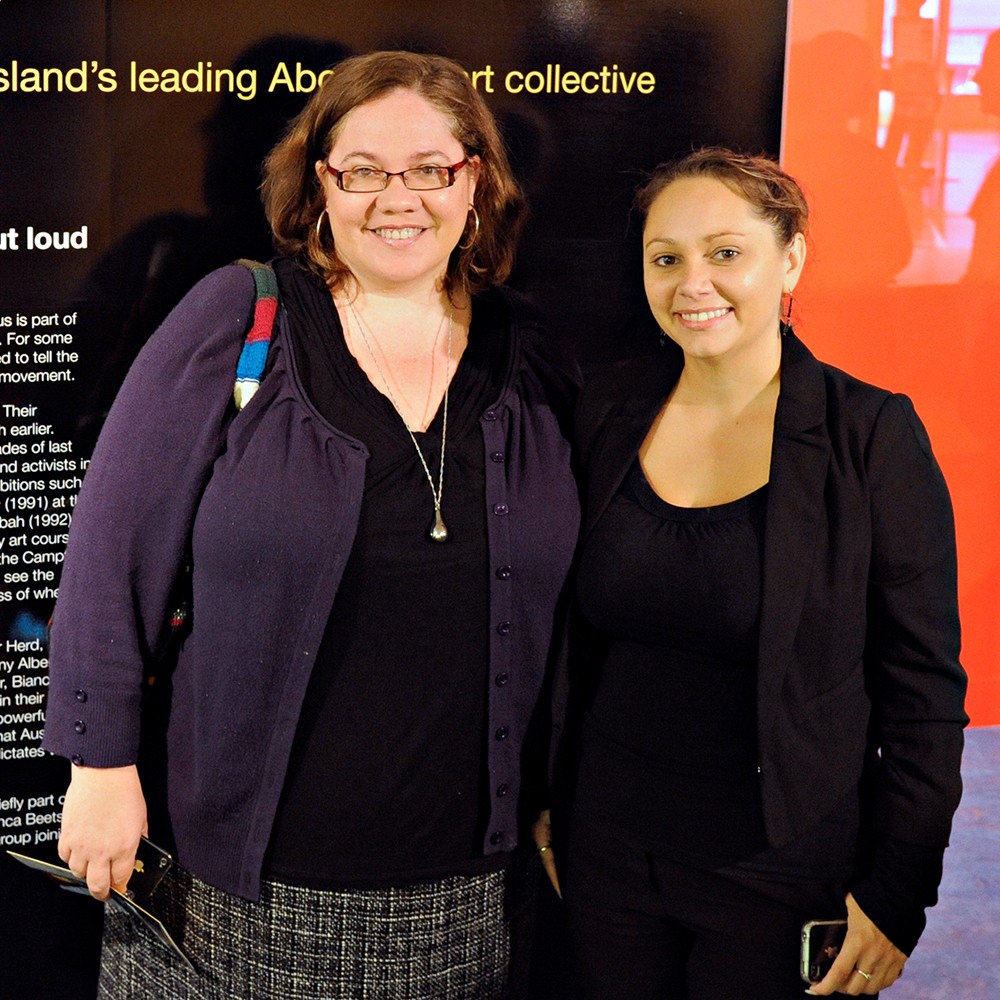 Leesa Watego (L) with Amanda Hayman (R) in kuril dhagun, SLQ for an exhibition in 2012.
Leesa Watego (L) with Amanda Hayman (R) in kuril dhagun, SLQ for an exhibition in 2012.
Working from this foundation of pioneering opportunities for Indigenous Queenslanders, and upon "discovering the internet" and digital media, Leesa joined forces with other passionate individuals to found Iscariot Media, a Brisbane-based creative studio specialising in Indigenous creative and online projects.
As Director, she works consistently to empower Indigenous communities by developing opportunities within the Indigenous business sector through initiatives such as:
SLQ is lucky to be hosting Leesa this Saturday 4 March for a workshop in the Business Studio, level 1, designed to help Indigenous artists and entrepreneurs build their business to achieve financial viability and improve sustainability.
Designed for artists working in any creative medium, Leesa's first session will help participants map out the future of their business, explore practical ways of creating business opportunities and partnerships, and learn strategies to monetise business ideas.
Tickets are just $10 for this rare learning opportunity with an experienced facilitator and resource, so book your place online now at slq.qld.gov.au/whats-on. Come along in the coming weeks for future Indigenous arts business workshops, developed by SLQ's kuril dhagun in partnership with Iscariot Media.
Comments
Your email address will not be published.
We welcome relevant, respectful comments.