Building Costs for the Julius Street Flats at New Farm
By JOL Admin | 17 November 2014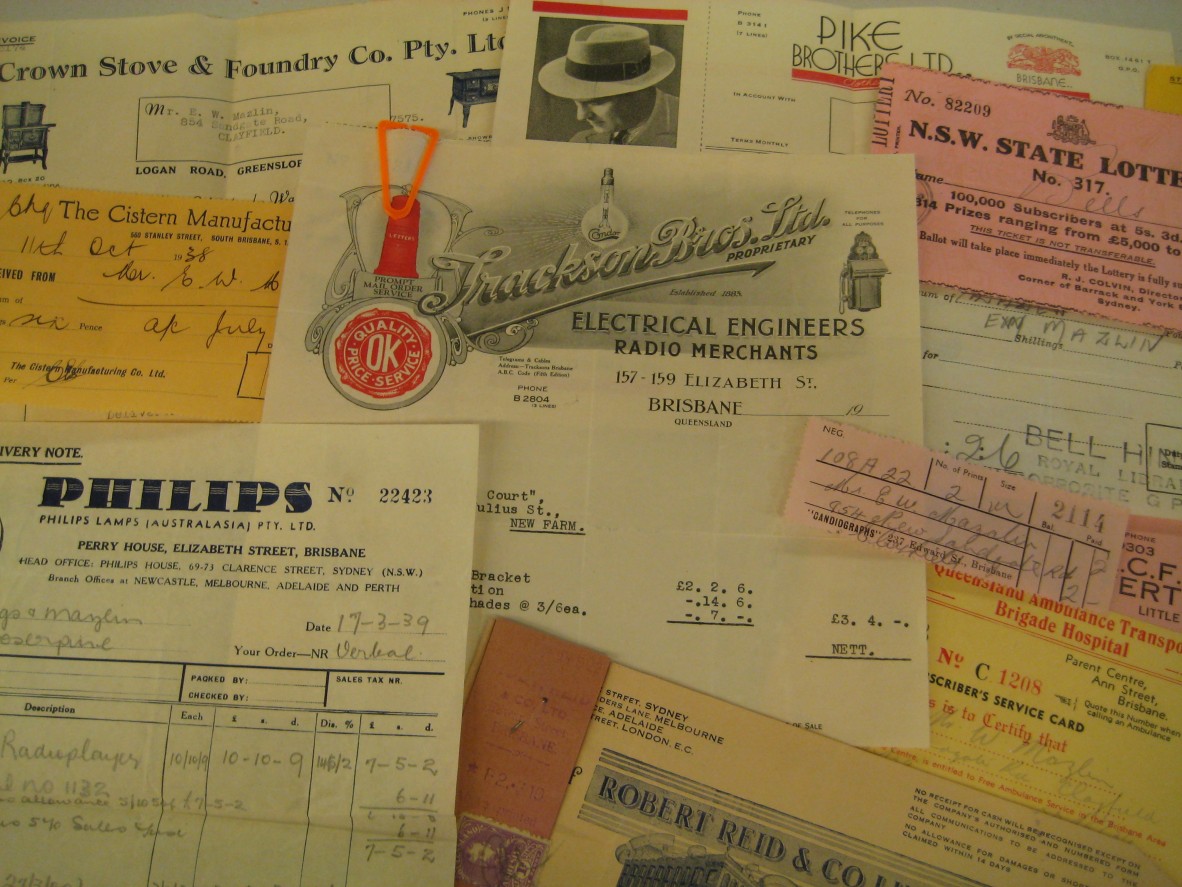 Receipts for Julius Street Flats
Receipts for Julius Street Flats
In a year when there has been much interest in Queensland architecture and of house design and building costs in Brisbane. It is interesting to find a time capsule for the 1930's in the State Library of Queensland's collections. The Julius Street flats at New Farm, was heritage listed in 1997 and built by E.W. Mazlin and is a rare example of a group of highly intact 1930s flats /apartment buildings.
For a tantalizing look at construction costs of the past visit the State Library of Queensland to discover more about the social and economic history of a particular time. Through the collections of the John Oxley Library, it is possible to delve deep into the past and explore what life was like in a particular era.
The land in New Farm where the properties are located was originally part of a larger parcel for which a Deed of Grant was issued to John McConnell, in January 1845.
Julius Street, is a short and narrow cul-de-sac that is surrounded by a highly intact group of 1930s buildings, and as such is recognised as having a distinct sense of place. They have considerable aesthetic significance as a highly intact group of 1930s flat buildings, designed in a range of fashionable styles favoured by architects of much of the more prestigious domestic housing in Brisbane during the interwar period.
Receipts
The flats, consisting of seven properties comprising of Ardrossan, Green Gables, 5 Julius Street, Syncarpia, Ainslie, Pine Lodge, and Evelyn Court, are located fronting Julius Street. They were constructed between 1934 and 1938 on a parcel of land that was subdivided in 1933 by Julius Rosenfeld, who had operated Rosenfeld's Sawmill on the site from c.1924. The place is important in demonstrating the pattern of residential development in Brisbane, and in particular New Farm, between the wars.
This collection of material for the Julius Street build showcases the construction costs of the day but also a closer look at a more personal view.
Grocery receipt
Some other items of interest are the household accounts for Mr. Mazlins family, in the form of their grocery account for April 1943. This captures a glimpse of what was being purchased by this household during a time when there was shortages because of the Second World War and It is interesting to see the cost of such things as 50lbs of sugar at 16 shillings and 8 pence, 1lb currents 10 pence and 1 bar of kerosene soap at 8 pence.
This collection captures not only the cost of construction but the types of materials used and also the businesses from whom the materials were sources. There are beautifully presented art works on the stationary whether it is plumbing supplies or the new stove. All this material tells a story while capturing the essence of the day during a time of unrest in the world. This building was heritage listed in 1997 and a full history can be found on the Queensland Heritage Register.
To view this collection ask for the Julius Street Building, New Farm Records
Janette Garrad – Original Content Technician, State Library of Queensland
Comments
Your email address will not be published.
We welcome relevant, respectful comments.