Brisbane's city streets
By JOL Admin | 30 September 2010
The main tracks in the area now encompassing Brisbane's central business district developed during the time of the penal settlement (1825-39) with little thought as to longer term development or how the settlement would grow.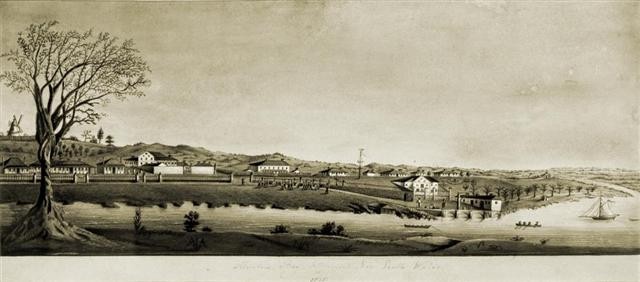 Henry Boucher Bowerman View of Brisbane Watercolour 1835
Henry Boucher Bowerman View of Brisbane Watercolour 1835
Soon after the formal closing of the penal settlement, Surveyor Dixon completed a proper survey of the streets of the town (March 1840), laying out a grid pattern of square blocks of about 200 metres in length with the streets about 20 metres in width. These streets were based upon the prisoners barrack (facing present day Queen Street) as the main alignment and cut across the existing tracks that had arisen over the years.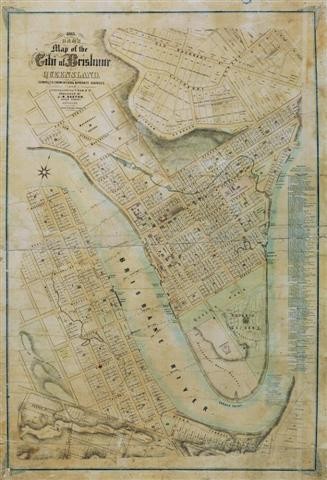 Ham's map of the city of Brisbane, Queensland, 1863. Image number 109695.
Ham's map of the city of Brisbane, 1863.
Various changes were made to this initial plan with the square blocks being flattened out into a rectangular grid and the streets being widened up to about 28 metres.
However, Governor Gipps, on his visit to the town in March 1842, saw no greater future for Brisbane Town than, "as simply an ordinary provincial settlement which would not need grand avenues". So Gipps ordered the streets back to 20 metres in width making the point that the buildings on each side of the streets would adequately keep out the sun.
But there was a later compromise with the main street, later Queen Street, being rearranged by moving the western boundary to make a width of about 24 metres. The other streets were left at 20 meters in width.
Street Names were chosen from British royalty, with those running in a north easterly direction after queens (Anne, Adelaide, Elizabeth, Queen, Charlotte, Mary and Margaret) and those running in a north westerly direction after kings (William, George, Albert Edward).
Comments
Your email address will not be published.
We welcome relevant, respectful comments.