Bertie DIXON #7052
By Marg Powel & Des Crump | 11 September 2017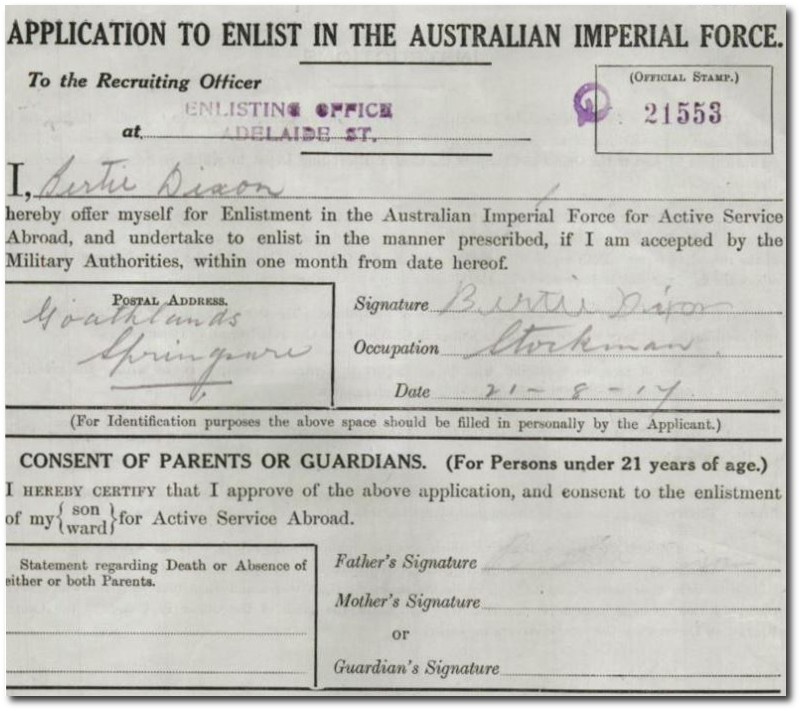 Indigenous Australian, Bertie (Albert) DIXON, 25th Infantry Battalion
Bertie DIXON was born in Springsure, Queensland to Richard and Jemima Dixon (nee Leopold) in 1894. He volunteered to serve with the first AIF in August 1917, aged 23. Bertie was working as a stockman at Goathlands Station, south of Springsure, his brother Percy Dixon had already enlisted in March 1916 and was serving overseas.
Bertie Dixon trained at Rifle Range Camp, Enoggera before embarking from Sydney on board the troopship HMAT Canberra in November 1917 bound for England. Dixon joined his Battalion in France in April 1918 where that year they were engaged in operations at Morlancourt, Hamel, near Amiens and along the Somme Valley.
On 28 May 1918 Percy Dixon was severely wounded in the abdomen, shot while serving in the front lines at Merricourt. He was evacuated to England for treatment, but never returned to active service. He was returned to Australia just prior to the Armistice in October 1918.
Bertie Dixon returned to work as a stockman and married Ethel Francis Cook in 1922, together they raised 8 children. He continued to suffer from the wound received at the Western Front, but lived until he was 100 years old.
Read more ...
The information in this blog post has been researched by State Library staff and volunteers, it is based on available information at this time. If you have more information that you would like to share or further research uncovers new findings, this post will be updated.
Comments
Your email address will not be published.
We welcome relevant, respectful comments.