Australia's boys in khaki and blue
By JOL Admin | 2 December 2014
Guest blogger: Sandy Bickerton, University of Queensland
There is a constant struggle in the production of popular music to balance honesty and musical integrity with the need to release an appealing and saleable song. Australia's Boys in Khaki and Blue was the second song written by returned sergeant S. D. Hewitt. After Dinsdale's help in publishing his first song, Hewitt sought to find that balance with this patriotic tune.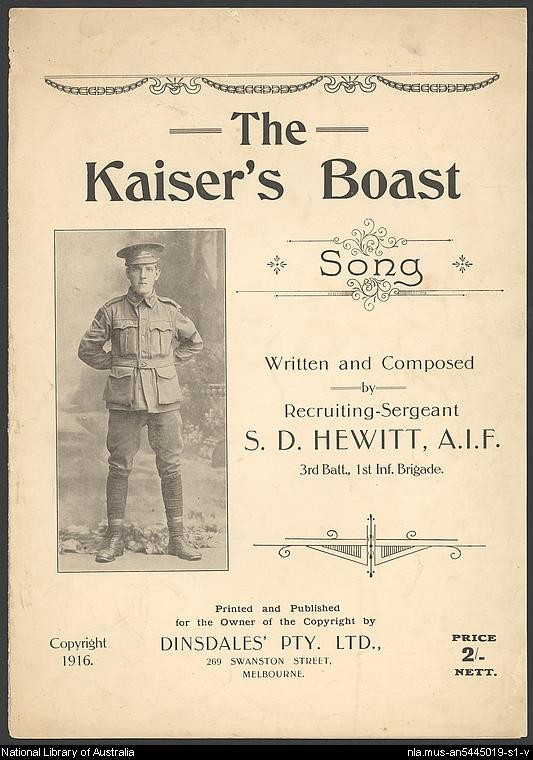 His first song, The Kaiser's Boast, was a cheeky patriotic march which featured the lyrics:
"The Belgians showed the Kaiser they were brave and true, so we'll tickle his back with the Union Jack till he's red, white and blue."1
It sold 15000 copies in Victoria alone, ensuring Sergeant S. D. Hewitt's name and the sight of his manuscript became well known through Australia. For his self-published number he ensured the sheet music was near identical to his first. Buyers would see a familiar heroic infantry soldier, the same font and format, and even be treated to the brave background story of Sergeant Hewitt himself.
"…The composer, Sergeant Hewitt, is a returned wounded soldier, having been shot right through one lung. Though suffering greatly through haemorrhage and weakness, he is independently handling his own clever composition throughout Victoria…"
The name of the song is noticeably similar to one of the most successful songs of the time, Boys in Khaki, Boys in Blue by A.J. Mills and Bennet Scott (1914). The song achieved its success being performed by comedian and singer, Jack Cannot, as a part of the Tivoli Revue, a travelling show combining music, sketch comedy and drama.2 The people of Australia evidently enjoyed a good patriotic sentiment, and a good popular music writer makes the most of such moods.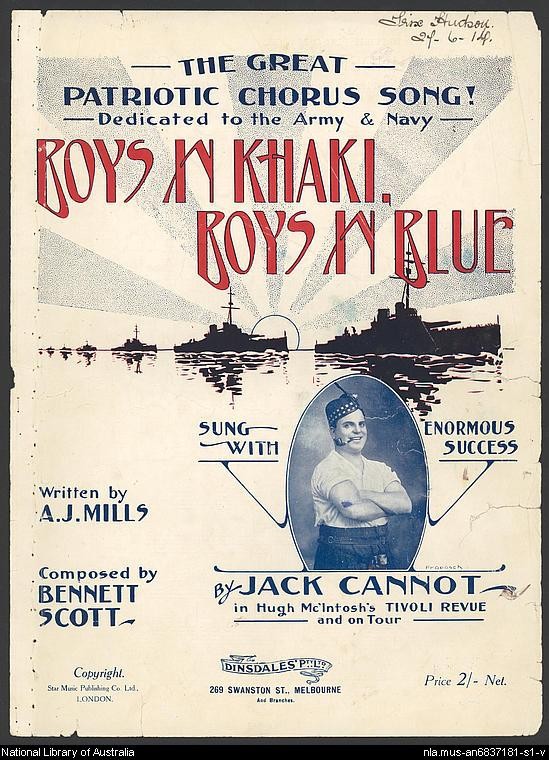 Hewitt's song is featured in an advertisement in the 'items of interest' section in The Advertiser (Adelaide) in July 1918.3 The only other way to advertise was on the sheet music itself, which like others of the time features a 'sampler' of his earlier song on the last page. The two year gap between publication and this newspaper ad suggests perhaps he did not achieve the success he had hoped.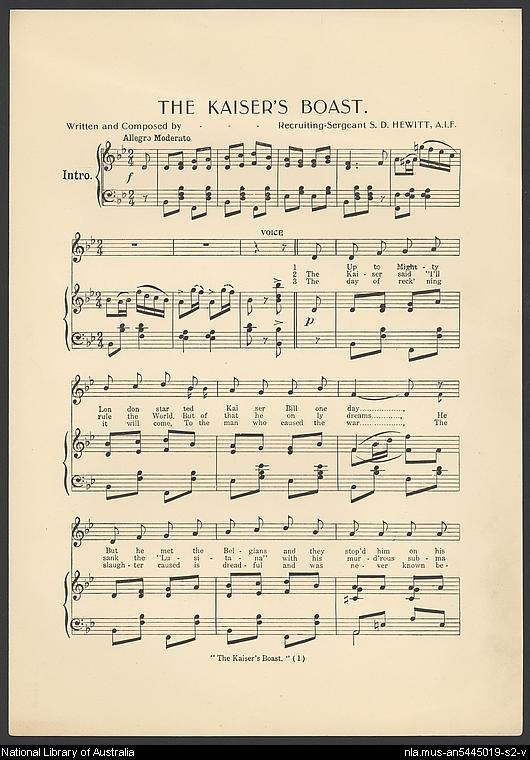 Despite these elements of the song that make it truly 'pop music', Hewitt has maintained honesty in his lyrics and integrity in his music. He has aimed to evoke a deep sense of patriotism, which he undoubtedly harboured himself. The lyrics reflect a genuine love for country that neither glamorizes the war, nor exaggerates their military feats. It is no idle boast for him to say "we did not want for waiting, we were ready for the fight". Hewitt was a recruiting sergeant of his battalion, which was raised within two weeks of the declaration of war and sent within two months.4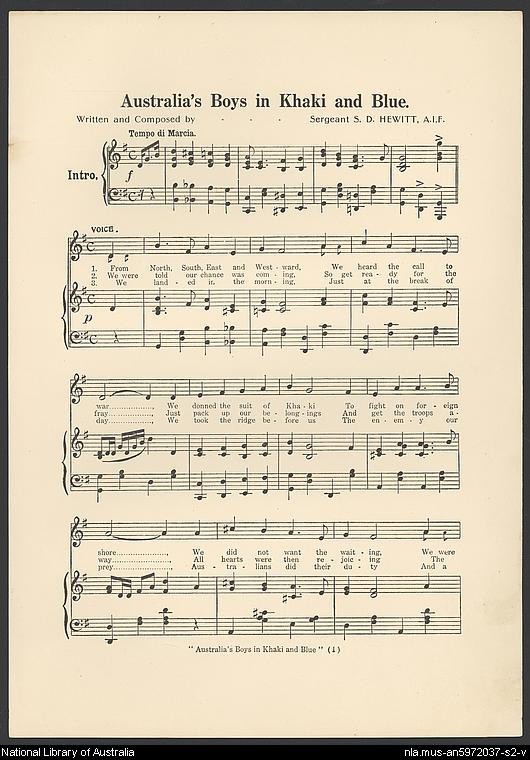 The Third Fighting Battalion (based in Sydney) also participated in the ANZAC landing on the 25th of April 1915 and served there till the evacuation in December, making this an ANZAC song.5 It is unclear when Hewitt sustained his injury and whether he participated in this landing or not, but the seemingly severe presence of his injuries in 1916 suggests he probably was.
Like many of these songs, the tempo is a march, aptly capturing the military theme. The piano part features in spots a mimicking of trumpet fanfare. The chording is very creative and quite pleasing to the ear, a variation not seen in most contemporary popular music.
Australia's Boys in Khaki and Blue
Vocals: Alexander Bickerton
Piano: Callum Gibson
Production: Callum Gibson
Lyrics:
From North, South, East and Westward, We heard the call to war.
We donned the suit of Khaki to fight on foreign shore.
We did not want the waiting, we were ready for the fight, to make our name in hist'ry,
And prove Australia's might.
Chorus
Australia, Australia, the boys in the Khaki and the blue,
Behind the guns our noble sons have shown what they can do.
For our glorious King and Country, and the dear old flag that flys;
They gladly fought in battle, and they bravely bled and died.
We were told our chance was coming, so get ready for the fray,
Just pack up our belongings and get the troops away.
All hearts were then rejoicing, the reck'ning was at hand,
When we would meet the foe-man then they would understand…
We landed in the morning just at the break of day
We took the ridge before us, the enemy our prey.
Australians did their duty and a fearful price did pay,
But won a glorious victory on that immortal day.
References:
1. View online at: http://nla.gov.au/nla.mus-an5445019
2. Otago Daily Times (NZ), August 10, 1915. http://paperspast.natlib.govt.nz/cgi-bin/paperspast?a=d&d=ODT19150810.2.74
3. The Advertiser (Adelaide) July 5, 1918. http://trove.nla.gov.au/ndp/del/article/5570281?searchTerm=Hewitt%20S%20D%20boys%20in%20the%20khaki%20and%20blue&searchLimits=l-category=Article|||l-decade=191
4. Australian War Memorial, War History, Units, Third Battalion http://www.awm.gov.au/units/unit_11190.asp
5. Australian War Memorial, War History, Units, Third Battalion http://www.awm.gov.au/units/unit_11190.asp
Comments
Your email address will not be published.
We welcome relevant, respectful comments.