Australian Library of Art Showcase Update October 2016.
By Administrator | 4 October 2016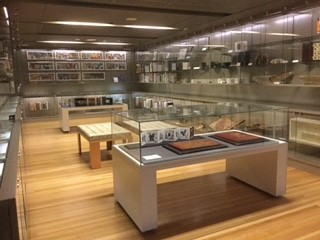 ALA Showcase Gallery
Another exciting collection of Artists' books will be on show from late September and will be available to view throughout the holidays, until the next exhibition in January 2017.
The theme for this exhibition will be works created by the Siganto Foundation Artists' Book Fellows. While some of the books were created as part of their fellowship and have been based on State Library collection materials, others are artists' books from the Australian Library of Art Artists' Book Collection that the fellows have made as part of their artistic practice.
Jan Davis –Creative Fellow 2014 / 2015
Drawing on the ground by Jan Davis
Image courtesy of Doug Spowart
Blair Athol recut by Julie Barratt
Seven conjectures on looking for place by Clyde McGill
Image courtesy Doug Spowart
Image courtesy Ana Paula Estrada
Lyn Ashby, Image courtesy SLQ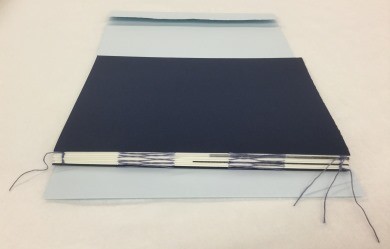 Picturing the Island by Marian Crawford
Picturing the Island by Marian Crawford
Blogs
(1) Banaba/Ocean: picturing the island – Marian Crawford
Book Artists on regular display in the ALA Showcase
Bernard Appassamy, Helen Sanderson, Klaus Zimmer, Peter Rosman, Alex Selenitsch, University of Southern Queensland, Tafadzwa Gwetai, Arthur Azevedo, Annette Seeman, Stewart Scambler, Guiseppe Romeo and Wim de Vos.
All artists' books in the collection are catalogued on Onesearch and may be found there by searching "artists books". (artists' books & books about artists' books) or "ALAAB" (locates artists' books) Where copyright permissions can be obtained we are gradually fully digitising works from the Artists' Books Collection.
You can sign up for a Library membership for immediate access to State Library's collections and services and enjoy a digital experience from home. Browse all digitised artists' books
Visit the ALA Showcase Gallery, located on level 4, of the State Library to feast your eyes on these wonderful works.
Janette Garrad, Senior Technician, Published Content, State Library of Queensland.
Comments
Your email address will not be published.
We welcome relevant, respectful comments.