#auslibchat - how to participate in a live Twitter chat
By Amy Walduck | 30 January 2017
Librarians love Twitter. WE LOVE IT! It's a great place to create networks, learn new things and share with others in our industry. Have you ever showed up at an industry event and felt that you did not know anyone in the room? Well, if you create a good Twitter network that will never happen to you again - you will always find a Twitter friend anywhere you go!
ALIA New Generation Advisory Committee (NGAC) is now in its seventh year running #AusLibChat, an Australian and NZ centred professional discussion on Twitter in the same vein as #uklibchat, #libchat and #edchat. #AusLibChat runs at 9pm AEDT on the first Tuesday of the month, for 1 hour, and is facilitated by a member of the ALIA NGAC team.
The first #AusLibChat was in February 2016 and you can review all the past chats via ALIA NGAC's archive. If you haven't participated in a Twitter chat before this is a great place to start! Have a read of each chat to get a feel for how they run, what people share and how the format works.
Tips for newbies:
Before the chat
#1 - ALIA NGAC publish the next #AusLibChat questions on their blog in the week before the chat. Read the questions and jot down some thoughts & ideas and get thinking about what you have to share.
#2 - Now that you've read the questions early you can find out where your workplace stands on the issues. Research your workplace policies and procedures and ask your colleagues.
#3 - Get comfortable! Grab a drink, a notepad, your laptop, music, whatever works for you!
During the chat
#4 - Follow the hashtag #AusLibChat to see what everyone is tweeting.
#5 - Start each tweet with reference to the question you are answering e.g. Q1 is question 1, and A1 is answer 1.
#6 - ALWAYS use the #AusLibChat hashtag on your tweets EVEN when replying to a tweet.
#7 - Keep an eye out for the next question tweeted by @ALIANGAC so you don't get left behind!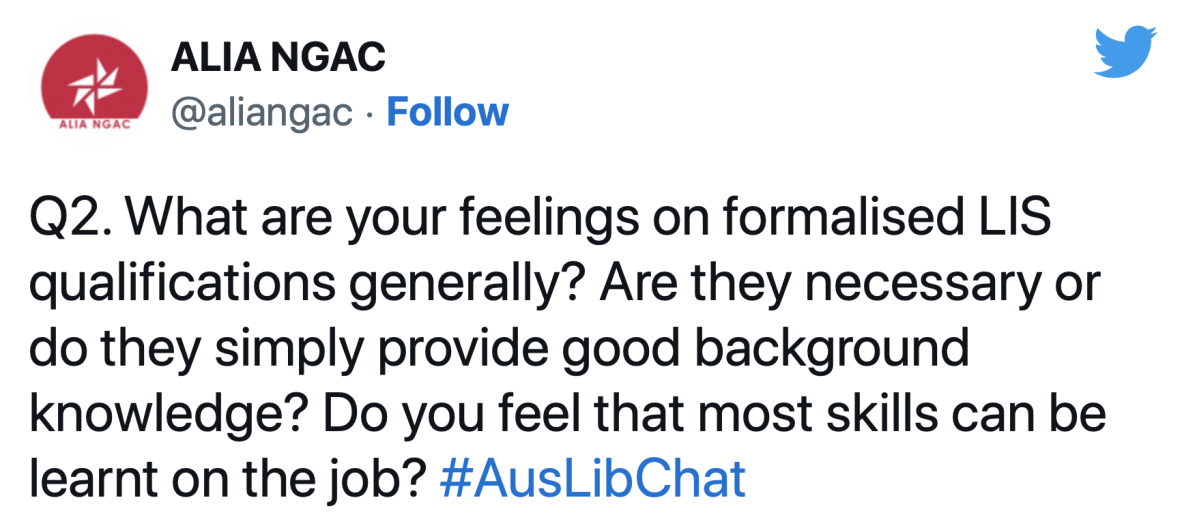 After the chat
#8 - ALIA NGAC always update their blog after the chat and document each chat so you can go back later and review what you missed. Also great for those who could not make it to the live chat!
#9 - Don't worry if you felt a bit overwhelmed keeping up with the pace of the chat - it takes some practice to get comfortable. The more you do it, the quicker you will get!
Check out when the next #AusLibChat is and join the conversation!
[Originally published on 30 January 2017. Updated 4 October 2022.]
Comments
Your email address will not be published.
We welcome relevant, respectful comments.