Archivists of loss
By JOL Admin | 18 October 2016
Front page of the Christmas edition of The Queenslander, 2 December 1916 John Oxley Library Neg # 189832
Front page of the Christmas edition of The Queenslander, 2 December 1916 John Oxley Library Neg # 189832
During the writing of my PhD on the origins of Anzac Day I became increasingly aware of the differences between the public and private versions of memorialisation of the catastrophic events of World War 1. The public, collective process of memorialising was largely men's business. It was men who organised and promoted Anzac Day commemoration and organised the construction of public memorials and statues which were in turn consecrated through the speeches of male politicians, returned soldiers and clergymen. Men ran the returned services organisations which kept memorialisation in the public eye. Men wrote and published their war memoirs and male historians wrote the histories, official and otherwise, of the events of 1914-1918
During the war years women wrote thousands of letters to soldiers at the front yet the vast majority of these have been lost. What survives are many of the letters of the men who wrote home. A perusal of State Library collections relating to the war years nonetheless shows the very present hand of women. Mothers, sisters, wives, daughters and fiancés were typically the guardians of family memories. It was these women who, in the absence of grave sites, preserved letters, photographs and other memorabilia of soldiers' experiences, nurtured their memories of loved ones lost and damaged by war, thus curating what historian Joy Damousi has called "archives of loss". Very often, the artefacts collected and lovingly maintained were later donated to libraries and museums.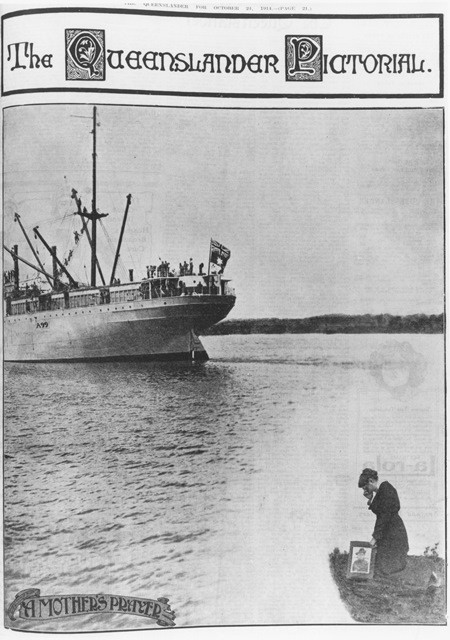 A mother's prayer, The Queenslander, 24 October 1914, John Oxley Library Neg #189829
A mother's prayer, The Queenslander, 24 October 1914, John Oxley Library Neg #189829
The acts of collecting and maintaining these collections of memorabilia and their location now in public repositories have influenced and changed our understanding of the war and its impacts. War touched thousands of Queenslanders who were non-combatants. My research seeks further to understand and elaborate on the non-combatant experience. It was their war too.
The study will reveal both the psychological strategies adopted to cope and the cultural and social context of these experiences, considering the ways in which grief and loss, like battles, troop movements, political alliances and the experiences of soldiers, have a history.
Mark Cryle, 2016 QANZAC 100 Fellow
Comments
Your email address will not be published.
We welcome relevant, respectful comments.