Anzac Day Today
By JOL Admin | 24 April 2016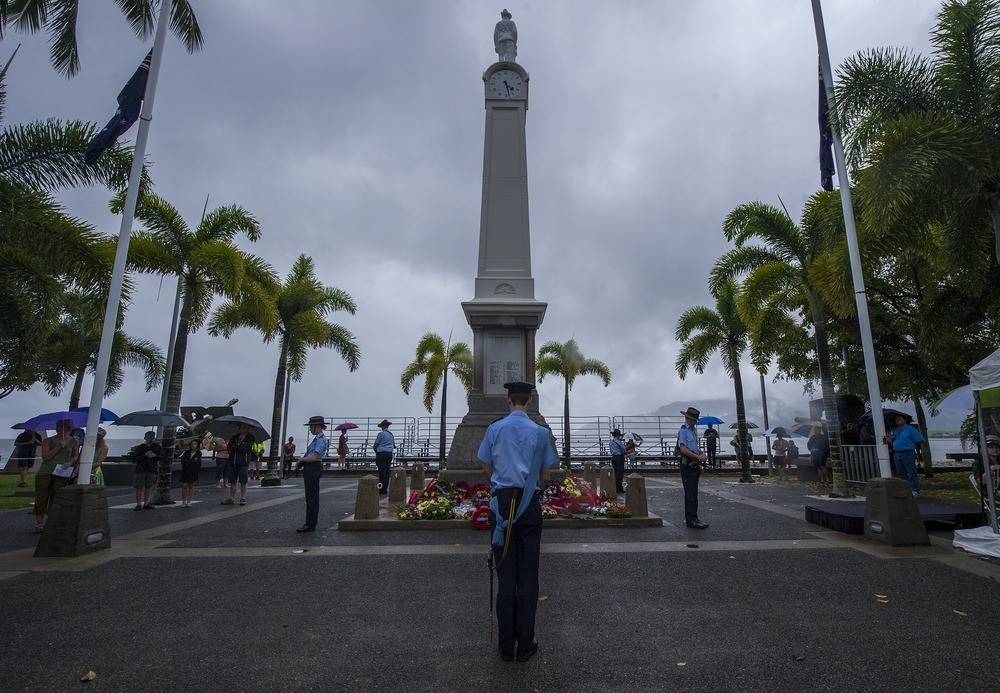 Australian Air Force Officers at the war memorial on Anzac Day in Cairns, Queensland 2014. From 29485 Brian Cassey Anzac Day 2014 Photographs. CC-BY-NC. John Oxley Library, State Library of Queensland
This year marks one hundred years since the first Anzac Day Commemoration was held. Queensland's Canon David John Garland, known as the 'architect' of Anzac Day, created the framework for Anzac Day services, which includes the Anzac Day march, wreath-laying ceremonies, church services, and the one minute's silence.
To mark the centenary of the First World War, State Library of Queensland invites you to contribute to the Anzac Day Today collection on the Q ANZAC 100: Memories for a New Generation Historypin hub. The Anzac Day Today collection is the most visited on the hub, with over 7,500 views. It contains close to 200 images from schools, individuals, and community groups from throughout the state, as well as the Dawn Service at the Australian Embassy in Cambodia.
Australian Air Force Officers at the war memorial on Anzac Day in Cairns, Queensland 2014. From 29485 Brian Cassey Anzac Day 2014 Photographs. CC-BY-NC. John Oxley Library, State Library of Queensland
These contemporary images of a long-held tradition contribute to a digital legacy of how we commemorate the centenary of the First World War for future generations. We would like to invite you to explore the collection, and to contribute your own stories, images, and videos to the hub.
If you have any questions about the collection, please contact us at discovery@slq.qld.gov.au
Comments
Your email address will not be published.
We welcome relevant, respectful comments.