Abbotsford Estate, Taringa, 1883 (Map of the Week)
By JOL Admin | 24 May 2018
State Library of Queensland has an extensive collection of historical maps of Queensland, some of which have been digitised and can be viewed online.
Plan of Abbotsford Estate, Brisbane, 1883. John Oxley Library, State Library of Queensland
This real estate map from 1883 advertises 176 allotments of land for sale at the Abbotsford Estate, located in the Brisbane suburb of Taringa. The allotments were situated on Stanley Terrace, Woodstock Avenue, Montrose Road, Marmion Parade, Rokeby Terrace, Waverley Road, Moggill Road, Mt Cootha Road (now Moorak Street) and Sarah Street (now Manchester Terrace).
Prior to the sale extensive publicity was published in Brisbane newspapers.
"Abbotsford is in the midst of a settled district and must enormously increase in value - witness the progress of Toowong, where in eight years land has increased in value from £10 per acre to £3000 per acre. This is a fact! - and the auctioneer has only to state that £800 was refused for a quarter-acre allotment a few days ago; and land is actually changing hands in blocks at £200 per acre...Abbotsford possesses grand elevations, natural drainage, and magnificent knolls of surpassing loveliness". (Brisbane Courier, December 14, 1883, p.8)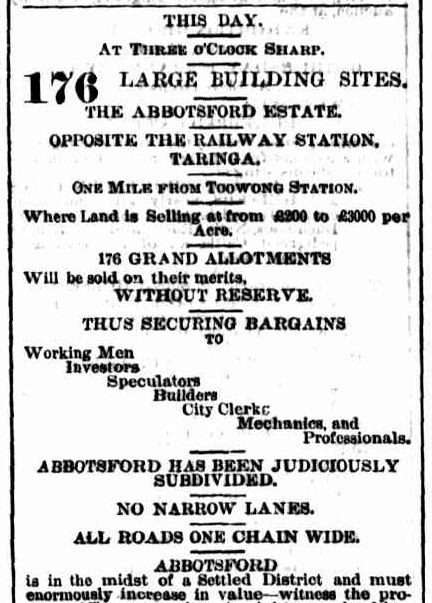 Advertisement for Abbotsford Estate published in the Brisbane Courier, December 15, 1883, p.8
A public auction was to be held at the ground on the afternoon of December 15, 1883. The results of the sale were published in the Brisbane Courier newspaper.
"Mr John W. Todd reports the sale of forty-nine allotments in the Abbotsford estate, on Saturday afternoon, on the ground, for the sum of £677 10s". (Brisbane Courier, December 17, 1883, p.4)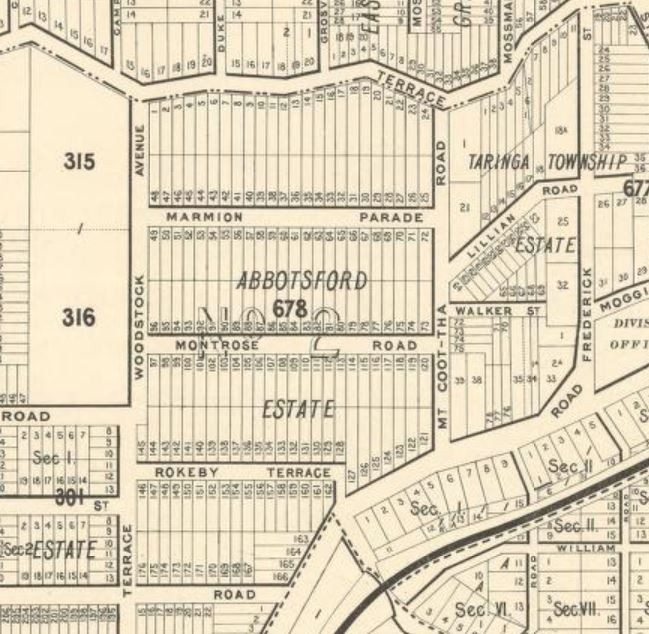 Abbotsford Estate in 1895 - according to McKellar's official map of Brisbane & suburbs. Sheet 10
A higher resolution image of this map can be viewed and downloaded through our One Search catalogue.
Prints of this map are also available through the Library Shop.
You can browse a compendium of our previous maps of the week on our blog.
Myles Sinnamon – Engagement Officer, State Library of Queensland
Comments
Your email address will not be published.
We welcome relevant, respectful comments.