5 minutes with Anna Tushuizen
By Administrator | 16 February 2017
Library officer Anna was so confident her future was in libraries that she quit her full-time admin job to take on a casual role with Central Highlands Regional Council. Read on to find out whether her gamble paid off.
How did you first come to be part of the libraries?
I had been interested in working in libraries for some time and then casual position came up, so I took a leap of faith and resigned from being a full time administration officer. Luckily for me, this became full-time and I've never looked back!
Can you share a memorable story from your time in libraries?
A young mum began attending Rhyme Time with her two toddlers who were not English speaking. Over the next eight months, it was such a delight to see these little boys overcome their shyness and start to joke and interact with staff and other children. It shows how we can make a positive impact on people's lives.
What do you love most about libraries?
No two days are alike. We get a diverse range of clients with different enquiries and expectations, or who just like to come in to relax. It's fun to interact with them and assist them if they need help.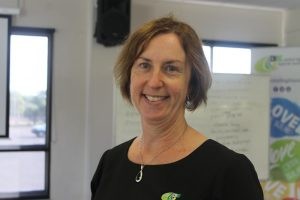 Anna Tushuizen ... no two days are ever alike.
Anna Tushuizen ... no two days are ever alike.
What do you think libraries need to do next?
Pretty much what they are doing now – being welcoming and inclusive places for all, and keeping ahead of technology and what the clients' needs are.
If you were a library manager what would be the number one thing you would do?
I would seek more funding to update all our libraries and outfit them with bright furniture and fittings and state of the art technology.
Comments
Your email address will not be published.
We welcome relevant, respectful comments.