Have you ever weighed up the pros and cons of taking your baby or young child to a library? Perhaps you think they're too young, or that it's better to wait until they can read and write. Maybe you're worried they'll make too much noise, tear every book page in sight, treat the place like a jungle gym, or simply won't be interested in what's going on there.
Fear not, families! We're here to assure you that Queensland's public libraries and Indigenous Knowledge Centresopen_in_new are the perfect places to enjoy with young children, with guaranteed fun to be had by all. Here's 10 reasons why.
1. Warm, welcoming spaces
Gone are the days of the quiet, cold storehouse of books, and you certainly won't find librarians hissing 'shhh!' anymore. Today's libraries and Indigenous Knowledge Centres are modern, inclusive hubs for all to enjoy. Many libraries offer engaging spaces for young children – and some are even dedicated entirely to children! So rest assured, your family will be welcomed with open arms.
2. Foster a lifelong love of learning
Your local public library or Indigenous Knowledge Centre is a hive of information and creativity for all ages. Libraries cater for almost every interest, hobby, and burning question your little one might have. If your library doesn't have what you're looking for, it's highly likely you can have it transferred from another library or access it using your library's online resources.
3. A world of pure imagination
Apart from their many cognitive benefits, reading books can expand your world in plenty of other ways. They offer portals into real and imaginary worlds; can teleport you to any time in history – past or future; and welcome you into the lives and minds of other people, animals, creatures and cultures. If you think that's pretty neat, imagine how amazing this is in the eyes of your child!
4. Fun activities from birth
Most Queensland libraries and Indigenous Knowledge Centres run regular free First 5 Forever Baby Play, Rhyme Time, and Story Time sessions for families with children aged 0-5. These sessions will have you singing, playing and moving with your little ones, and aim to empower you to try the new things you learn during these sessions at home. Best of all, you don't even need to be a library member to attend.
5. The perfect sanctuary
Many would agree that while Queensland is Australia's most beautiful state (we're a tad biased), it also gives us some unpredictable weather. Are you looking for a cool, shady way to spend a blisteringly hot day? Maybe you need to shake off cabin fever when it's been raining for the past week? Rain, hail or shine, your local library and Indigenous Knowledge Centre is the perfect escape for the whole family.
6. A special outing with your child
Do you remember the excitement of going to the library, choosing the books you wanted to borrow, filling out the checkout card inside, and then going home to read your bounty? This experience transcends generations (although checkout cards have changed a bit over the years). Plan a special outing with your little one – they'll get to experience your childhood favourites, and you'll get to forge new ones together.
7. Get a head start
Your baby was born ready to learn, and it's never too early to start reading, playing, singing, and talking with them. As massive literacy enthusiasts, librarians are here to help you with simple, daily, age-appropriate activities to share with your child during this pivotal time in their development. Hot tip: attending a First 5 Forever session is a great way to supercharge your knowledge bank!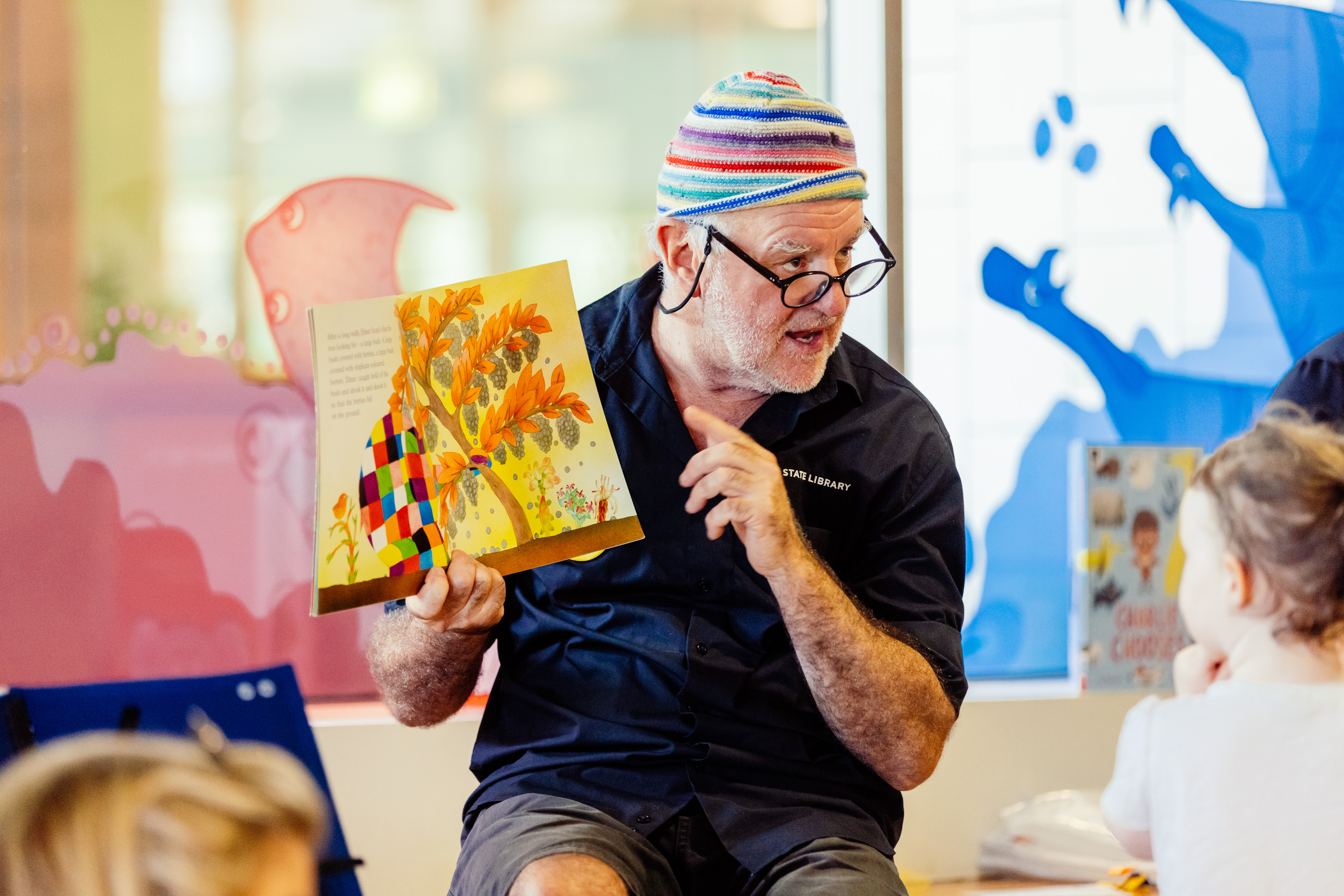 8. There's more to it
We all know how great books are, but did you know that many libraries also offer access to movies, video games, music, magazines, newspapers, e-books, and more? While your little one picks which bedtime stories to take home, you can dive into the vast collections on offer both in-person and online.
9. Community connection
The benefits of engaging with your community are numerous. Libraries and Indigenous Knowledge Centres are safe spaces that bring people from all backgrounds together, so your little ones will benefit from the enriching social connections they develop from their visits, while building their sense of belonging.
10. The best things in life are free
That's right – joining your local public library or Indigenous Knowledge Centre costs you zilch. Membership gives your family access to a wealth of collections, services and programs. Babies as young as one day old can join and even have their own library card! Before joining, make sure you check your local library's requirements for proof of identification and address.
Comments
Your email address will not be published.
We welcome relevant, respectful comments.