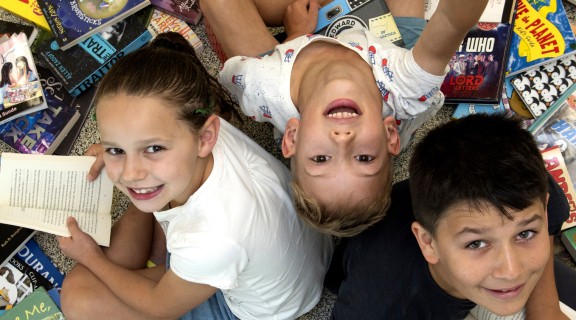 Public libraries have for a long time played a valuable role in helping children to learn to read through Story Time and associated programs and provision of children's collections. While this continues to be a cornerstone of public library programming, many libraries are now offering programs and resources for the development of youth and adult literacy.
Guidelines, Standards and Outcome Measures for Australian Public Libraries, July 2016, p77
Supporting literacy in libraries
Libraries are not only invested in supporting the development of early literacy skills of children from birth, they are also keen advocates of sustaining literacy and promoting the importance of recreational reading across all ages, particularly during the summer months.
State Library of Queensland supports local governments, Queensland libraries and Indigenous Knowledge Centres by providing materials and resources to enable them to deliver the Summer Reading Club program in their spaces.
Public libraries are the only government-funded agency available to children from babyhood, providing year-round free access to resources, [programs] and services that support literacy. The Early Literacy Framework and Strategy for Australian Public Libraries, developed by the ALIA Public Libraries Advisory Committee, p1.
What is the Summer Reading Club?
The Summer Reading Club is a free public program delivered by public libraries and Indigenous Knowledge Centres that aims to encourage a love of reading and literacy skills development amongst children and young people during the summer holidays.
How is the Summer Reading Club delivered?
Engagement with libraries is central to the Summer Reading Club program.
The Summer Reading Club program can be adapted to the size and capacity of any public library. The program provides a theme each year with materials and links to library collections, to not only encourage recreational reading but opportunities to promote library resources to new junior members and their families while providing existing members with something new to engage with over the summer holidays.
Participating libraries and IKCs receive access to a suite of themed artwork, templates and promotional materials to encourage participation in the program.
Queensland Councils and Libraries
97% of Queensland Library Councils with operational library services or Indigenous Knowledge Centres are subscribed to the Summer Reading Club (72 of 74 Councils)
Note: Although there are 78 councils in Queensland, 4 do not presently have an operational library branch, service or Indigenous Knowledge Centre.
For more information about the program and to get involved click here.
A program valued by Queensland Public Libraries
We love the brand. The Summer Reading Club has had a very positive influence on our young library members for years now and staff observe a build-up of excitement each year as registration day gets closer. It's a great way for the library service to encourage our community to read over the school holidays.

Curtis Dray, Gympie Regional Libraries
I appreciate that there are so many materials prepared and available for free so I can encourage local children to read and be involved in the library over the summer school holidays.

Sharon Millet, Gin Gin Library
The opportunity to encourage library memberships. Of our 70 registrations this year, over 30 signed up as new members!

Kasey Allwood, Livingstone Shire Libraries